Intel's Ghost Canyon NUC 9 Extreme Gets Official With Beefy 9th Gen Core-H CPUs
The Consumer Electronics Show (
CES
) in Las Vegas is now in full swing, and one of the first things we spied at the event is Intel's new
NUC 9 Extreme mini PC
. Also called a Ghost Canyon NUC, this Next Unit of Computing device has been the subject of past leaks and rumors, and is now an official product with Intel's CES unveiling.
What is especially interesting about this particular evolution of the NUC is that
Intel
is promising desktop-class performance with gaming chops from a 5.0-liter form factor. it is quite a bit different than some of the smaller NUCs that we have seen over the years (like the
Bean Canyon NUC
and
Hades Canyon NUC
we reviewed).
We do not have all of the details just yet because this is essentially a preview, though Intel did share some other notable tidbits.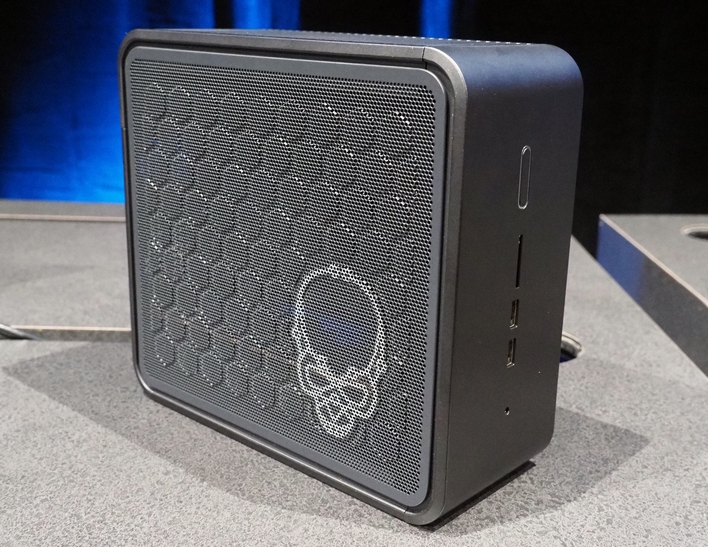 For one, the Ghost Canyon NUC is powered by Intel's
10th generation Core H series "Comet Lake"
processors, including Core i9, Core i7, and Core i5 CPU options. Intel did not say which specific SKUs will find its way into the Ghost Canyon NUC, though it did say at the top of the stack it will feature an unlocked Core i9 chip, making it the first-ever unlocked Core i9 NUC. Also, Intel separately announced it will have 8-core/16-thread H-series processors available at scale (meaning Intel is likely to introduce 8 core / 16 thread CPUs in other non-Core i9 variants).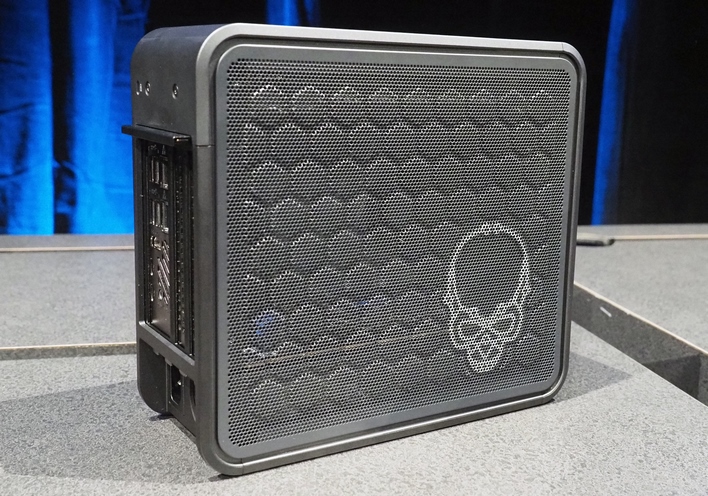 Intel also confirmed the NUC 9 Extreme is based on the company's Compute Element platform. That means there is a swappable cartridge that plugs into the system's PCI Express slot. This cartridge houses the main guts of the NUC, including the CPU, RAM, motherboard chipset, and storage. The upshot for users is being able to upgrade the entire system just by removing the cartridge and slotting in a new one. As for the power supply, it's integrated into the NUC, which is nifty.

There are two other PCIe slots that users can tap into as well, including a x16 PCIe slot and a x4 PCIe slot for other upgrades. By slipping in up to a 225-watt mini graphics card, the NUC 9 Extreme transforms itself into a compact and potent gaming system (depending on the GPU). Fun factoid: this is the first NUC to support desktop graphics cards.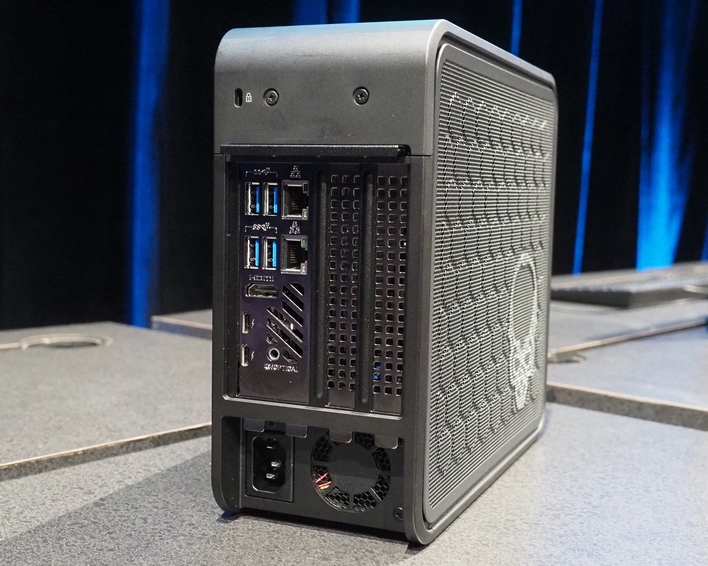 The NUC 9 Extreme also offers robust connectivity options. A shot of the rear (shown above) reveals three USB 3.0 Type-A ports, two Thunderbolt 3/USB-C ports, a pair of gigabit Ethernet ports, and a 3.5mm audio port. Around front, users have access to two more USB 3.0 ports, an SD card reader, and another 3.5mm audio port.
We are eager to get our hands on the NUC 9 Extreme to see how it performs, especially with the prospect of building a miniature gaming PC around this thing. Traditional desktops will still offer several advantages, such as better cooling and more flexible GPU options, but a compact gaming NUC that takes up very little space and/or can be tossed into a backpack and toted to a LAN party is certainly enticing.