Intel DG1 Discrete GPU Allegedly Sports Tiger Lake Genetics With 96 EUs
Intel is still not ready to provide specific details about its discrete GPUs that are bound for 2020 (which is now just around the corner), though in the absence of official information, the number of leaks is starting to pile up. The latest one comes from a European Economic Community (EEC) listing that seemingly broadly outlines Intel's upcoming DG1 graphics.
You may recall how Intel celebrated in October having powered on a DG1 graphics card built from the ground up for the very first time. At the time,
Intel CEO Bob Swan
told investors during a live conference call it was "
an important milestone
." Chris Hook, who was serving as Intel's senior marketing director (he has since
left the company
), followed up with a post on Twitter proclaiming, "It's alive!"
The general takeaway is that DG1 is a bit of a big deal, and an important product stack for Intel—it will be the first impression from the company's efforts into the discrete GPU space. So, what do we know? Twitter user Komachi posted a link to an EEC listing that outlines DG1. Have a look...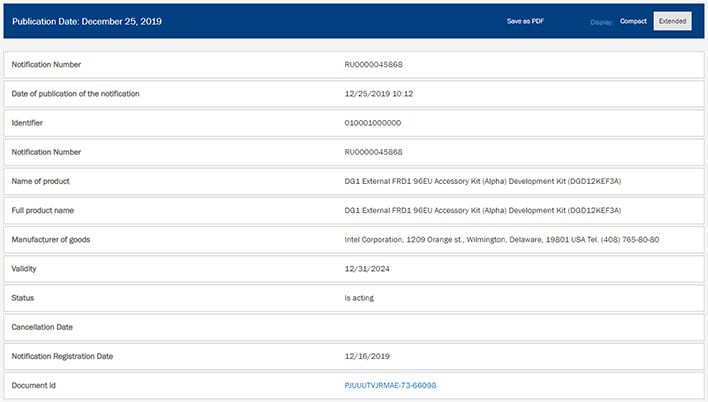 Click to Enlarge (Source: EEC)

This little Christmas Day nugget points to a development kit listed as "DG1 External FRD1 96EU Accessory Kit." We already know that Tiger Lake's integrated graphics will sport 96 execution units (EUs), compared to 64 on
Ice Lake
. If the information in this listing is correct, then so will DG1. In other words, DG1 will essentially be a discrete version of Intel's integrated graphics.
The listing also suggest DG1 will have 768 shading units (96 times 8), if it follows the design of Tiger Lake. To put that into perspective, Intel's Gen9 graphics on Skylake sport 72 EUs at the high end (Halo, or GT4e) and 576 shading units.
The folks at
WCCFTech
did a bit of speculating about the DG1's potential performance, based on the above. Assuming DG1 can achieve at least 2 instructions per clock and runs at at least 1,400MHz, we would be looking at around 2.1 TFLOPs of performance. At 1,700MHz, that figure spikes to 2.6 TFLOPs. Depending on IPC, performance should be somewhere in the neighborhood of
NVIDIA's GeForce GTX 1650
.
Who knows if that will actually be the case. Either way, DG1 as specified looks to be an entry level product, with more powerful solutions to follow. We'll have to wait and see.