Intel Core i9-14900KS Breaks Cover At A Blistering 6.2GHz Stock Speed
Intel's flagship consumer processor for the desktop is the recently minted
14th Gen Core i9-14900K
(Raptor Lake Refresh), but perhaps not for long. It turns out that Intel might be prepping an even faster-clocked "KS" variant, just as it had done with the previous generation
Core i9-13900KS
. That's assuming a handful of retail listings posted by an Israeli PC vendor are legitimate.
If you're reading this, you're more than likely familiar with Intel's model designations. To quickly recap, attaching a "K" to the end of the model number means the chip in question has unlocked multipliers, while the addition of an "S" (so "KS") means it's a higher-performing variant, essentially a special edition CPU that's been more selectively binned to hit even faster clocks at the top end.

As it relates to Intel's current top model, the Core i9-14900K is a 24-core/32-thread chip comprised of 8 P-cores clocked at up to 6GHz and 16 E-cores maxing out at 4.4GHz. And while Intel is calling its Raptor Lake Refresh processors 14th Gen chips, you can basically think of them of as
binned, goosed-up
13th Gen Raptor Lake parts.
A Core i9-14900KS, then, would be like a super-binned part, or the absolute cream of the crop. Such a part would need to exceed 6GHz out of the box to earn that kind of designation, and it looks like it will.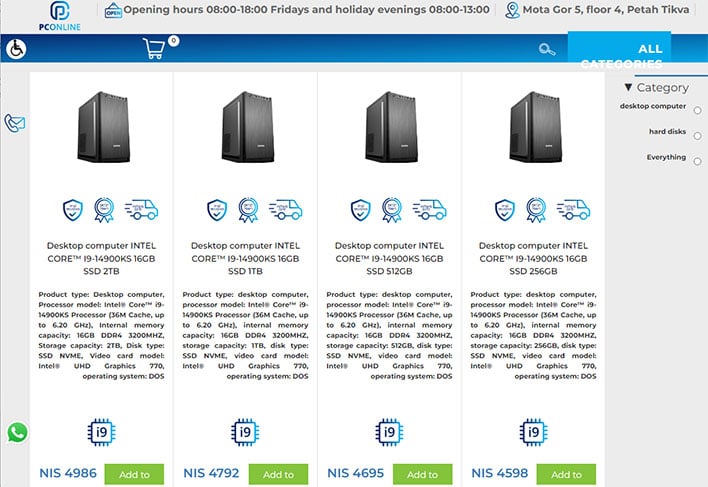 A fist-pump is in order for
Anandtech
forum member
igor-kavinski
, who spotted the Core i9-14900KS hanging out at
PCOnline
. The vendor lists more than a dozen prebuilt desktop configurations purportedly outfitted with the unannounced SKU, each of which seemingly confirms it will debut with a 6.2GHz max turbo frequency. The listings also denote 36MB of L3 cache, which is the same as the Core i9-14900K.
That amounts to a 200MHz higher clock speed for the KS model, which is plausible. Of course, proper cooling would be needed to hit the max frequency. That matches the same clock speed gain that the Core i9-13900KS delivered over the Core i9-13900K. And like the last-generation KS model, we presume the other specifications would remain the same.
What's interesting about the listings is that none of them are configured as gaming PCs. Even the most expensive config priced at 5,726 Israeli New Shekel (~$1,499 in US currency) lacks a discrete GPU. Additionally, each prebuilt pairs the chip with either 16GB of 32GB of DDR4-3200 memory instead of DDR5. For all intents and purposes, these are business-class PCs.
That doesn't mean the listings are fake, but as always, take it with a grain of salt. That said, we'd be surprised if Intel didn't eventually release a Core i9-14900KS, perhaps at CES in January.