Intel Core i9-10900K 10-Core Comet Lake-S CPU Rumored To Hit 300W Under Load
We're coming close to the end of the line for Intel's 14nm process technology, which has been underpinning its mainstream, enthusiast, and server processors for years. Perhaps one of the final hurrahs for 14nm++ on the consumer desktop side will be
Comet Lake
-S, which will use Z490 motherboards along with the new LGA-1200 socket.
However, according to a new report from ComputerBase, while manufacturers of Z490 motherboards are ready to go with a full-scale launch, Intel isn't quite ready to sign off on its Comet Lake-S processors. If the report is to be believed, Intel is running into problems with power consumption.
The Core i9-10900K is the rumored flagship of the Comet Lake-S family, and once again ups the stakes with 10 cores and 20 threads. This is likely in an effort to take on AMD's Ryzen 3000 processors which are available in 12-core/24-thread and 16-core/32-thread configurations. However, the increase in core count boosts the TDP (PL1) of the Core i9-10900K to 125 watts, which is up from 95 watts on the Core i9-9900K.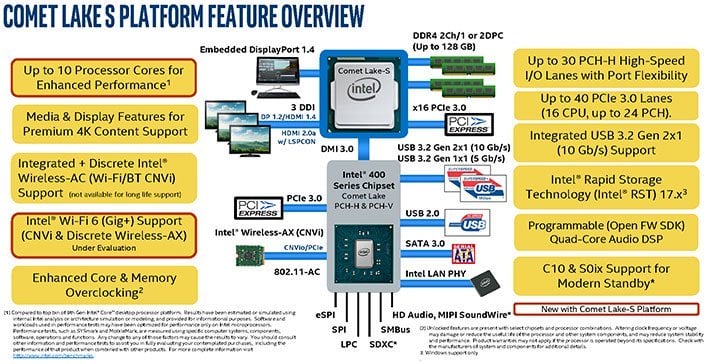 Intel lists a TDP of 250 watts (PL2) for the Core i9-10900K, but motherboard manufacturers are reporting that the chip is drawing upwards of 300 watts under maximum load. That number isn't too surprising given that we've got 10 cores firing at between 4.8GHz to 4.9GHz (All Core Turbo) on 14nm architecture that has been tweaked and prodded to its limits.
In our own testing, we found the Core i9-9900K pulling 226 watts under load, and the Core i9-9900KS was able to hit 266 watts. So, hitting 300 watts with two extra cores doesn't seem out of the question.
With that being said, it will be interesting to see how the Core i9-10900K stacks up against the Ryzen 9 3900X and Ryzen 9 3950X when it launches. Intel has typically maintained the upper hadn't with single-threaded apps, but AMD has dominated with multi-threaded applications. We'll just have to see if the two extra cores will help the Core i9-10900K close the gap with its Zen 2-based rivals.