Intel Core i7-14700HX Benchmarks Confirm Raptor Lake Refresh Is Headed To Gaming Laptops
The newest gaming laptops have put up some mightily impressive numbers that approach high-end desktops. While the GPU is certainly at the forefront of the excitement, a
strong CPU
is a prerequisite to complete the package. The heavy hitting NVIDIA GeForce RTX 4090 laptops typically come packed with the 13th generation Intel Core i9-13900HX mobile chips. With the recent release of Intel's desktop 14th generation CPUs, we're starting to get some hints that a mobile version is coming.
By the latest PugetBench results, it's been revealed that a mobile Intel Core i7-14700HX exists on the Raptor Lake platform. PugetBench is a benchmark suite put together by the system integrator Puget Systems, testing the mettle of systems. It will typically focus on productivity and content creation software, as opposed to strictly gaming.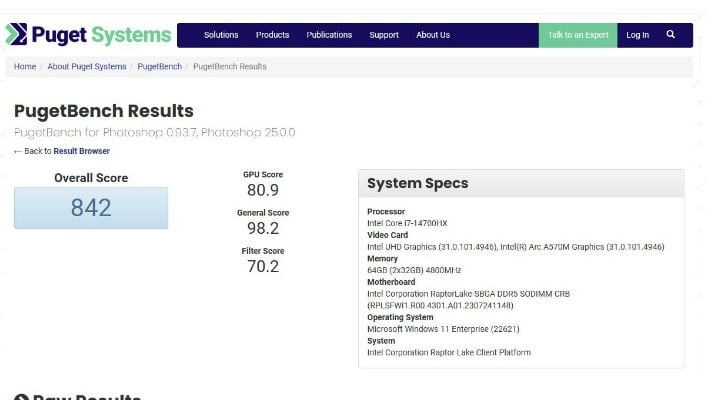 The desktop counterpart
of Intel's 14th generation was more of a slight refresh rather than total overhaul. It's still early to tell if the mobile chips will present any significant gains, but new chips also keep competition active. AMD has its lineup of
impressive mobile chips
, which are aimed at both gaming and productivity.
The Intel Core i7-14700HX scored an 842 on its overall score in this particular test. While it is too early to accurately predict any performance gains compared to last generation, it is of interest we're seeing the Intel Core i7-14700HX first. If we take a look over on the desktop side, the Core i7-14700K seems to be more favorable when compared to its last generation counterpart. The Core i9-14900K falls much more closely in line with the existing Core i9-13900KS, so not much generational gains to be had there.
There are other important aspects of mobile chips that will be very important for consumers considering these laptops. First, battery life is always of paramount importance - so performance per watt is key here. The existing Intel chips do push the thermal and power limits for performance, but efficiency always has to be baked in there as well.
Secondly, there has to be a balance between gaming and productivity use cases. This can be complicated, as gaming workloads typically are more single-core focused, and productivity will venture into the multi-core realm more often. Time will tell if we get larger improvements this generation, as mobile solutions have been reaching impressive levels as is. Lastly, a powerful mid-range Core i7-14700HX can also help keep pricing in check, depending on what the Core i9-14900HX variant may eventually be priced at.