Intel Arc Closes Gap With AMD's Radeon GPU Share But There's A Caveat
Graphics card shipments fell off a cliff last year, with total shipments declining 38 percent versus the previous year. That includes a 24 percent drop in desktop GPUs and a massive 43 percent downward swing in
laptop GPUs
, marking the largest decrease since peaking in 2011, according to the latest report from Jon Peddie Research. Just as interesting is data showing that as GPU shipments tumbled overall, Intel seemingly managed to match AMD's share of the discrete graphics market. There's an important qualifier that we'll get to in a moment, though.
"Overall, GPU unit shipments decreased by -15.3 percent from last quarter. AMD's shipments decreased by -12.7 percent, Intel's shipments decreased by -16.5 percent, and Nvidia's shipments decreased by -11.7 percent," JPR notes in its report.
Looking strictly at discrete GPU shipments, JPR's data tracking shows that AMD, Intel, and NVIDIA collectively shipped 13 million graphics chips across desktops, laptops, and embedded PCs in the fourth quarter of 2022. That's a sizable drop off from the 26 million discrete GPUs that were collectively shipped in same quarter a year prior.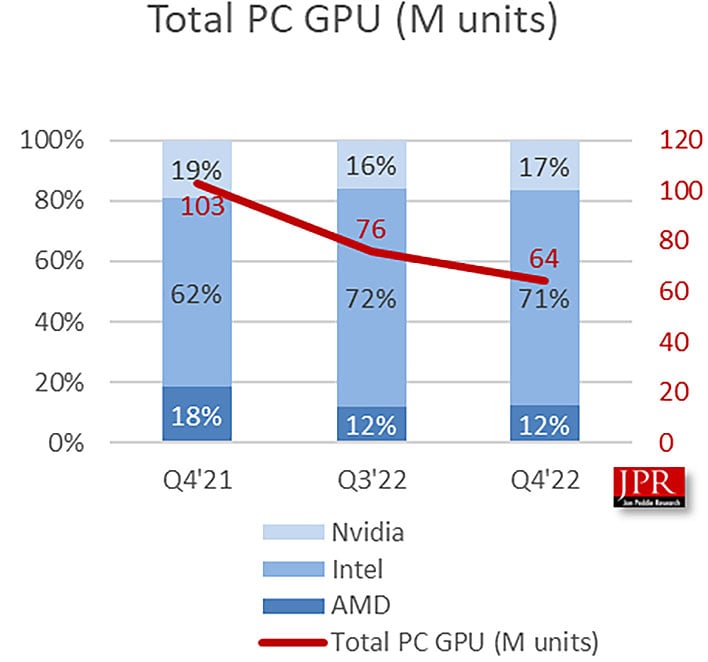 Source: Jon Peddie Research
Where things get really interesting at first glance is the market share breakdown of discrete GPU shipments. Intel is a newcomer to the modern graphics card scene with its
Arc Alchemist
lineup, yet its shipments reflect a 9 percent share of the market as of the end of 2022. That now matches AMD's share, which was cut in half from 18 percent at the end of 2021.
That certainly sounds impressive, but one thing to keep in mind is that shipment tallies are not the same as sales and/or actual market penetration. A look at Steam's hardware survey reflects this, even though that too is an imperfect representation of the landscape as a whole.

Additionally, Jon Peddie, head of Jon Peddie Research, told
TomsHardware
that people should temper their excitement over the shipment parity between AMD and Intel.
"The Intel numbers are an estimate based on their financial report. I would not get too excited about the closeness in shipping levels as Intel's numbers are influenced by ASPs and that is soft data," Peddie said.
To his point, you can grab an ASRock Phantom Gaming Arc A770 graphics card with a couple of free games and apps for
$299.99 on Newegg
, making it a fairly strong value proposition. And looking ahead,
Maingear recently went on record
saying it would be adding Arc graphics cards to its boutique builds.
As for NVIDIA, it's discrete market share (again, based on shipments) is at 82 percent, according to the
GPU report
. Even accounting for shipment for sales disparities, both AMD and Intel have a long way to go if they want to catch up with the market leader.
Regarding the big decline in shipments overall, Peddie offered up some words of encouragement.
"The sky may be dark right now, but I promise you, it is not failing (except in Northern California, where the rain still hasn't let up, which means we're going to have the most beautiful spring)," Peddie said.