Huawei Exec Brazenly Claims Apple Will Cough Up Market Share In Wake Of New Phones
Talk about unabashed: one of Huawei's executives apparently said that the iPhone will lose market share after the release of Huawei's latest slew of Spring-time phones.
Yesterday, Huawei unveiled three new flagships phones, the P60, P60 Pro, P60 Art, and Mate X3 foldable (plus the mid-tier Enjoy 60). Perhaps in a fit of pride and joy—according to a
Gizchina report
—He Gang, Chief Operating Officer for Huawei boasted in a post-launch media Q&A session that its flagships will eat into iPhones share of the premium market pie. Not "may," not "should," but "will." Now, that's bold, even for a company as big as Huawei.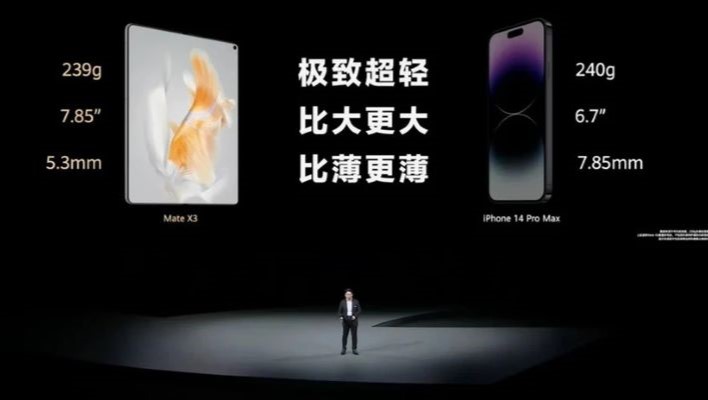 For context, the company touted that the Huawei P60 series possesses a 10-stop variable aperture (which lets in 191% more light that an
iPhone 14
) and super-focus night vision zoom lens (with 488% greater light input than an iPhone 14 Pro Max). While showing off the Mate X3, Huawei mentioned that it was thinner and lighter than the non-folding iPhone 14 Pro Max.
While the spec'd-out flagships from Huawei are impressive, it will be quite an uphill task to even make a dent in sales momentum of the leading brands. It might make a difference if Huawei was also offered in the US, but until the US administration and China/Huawei make up and play nice, we can only hope the best of the company. After all, who doesn't like some competition?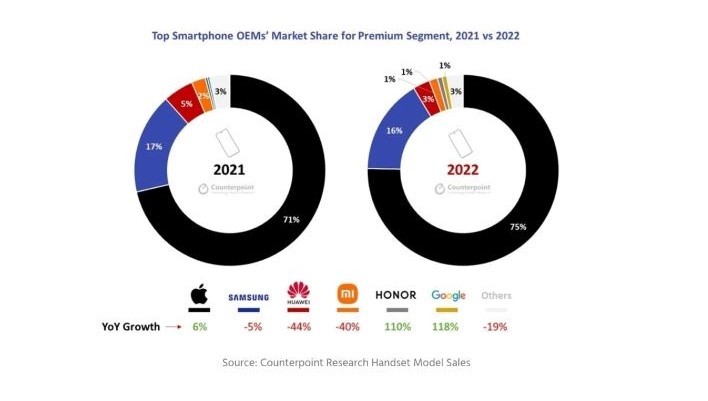 Still, Apple currently holds 75% of the global premium smartphone market share, with Samsung second at 16% and Huawei a distant 3%. Note that "Premium" here is defined by devices costing $600 or more. Even if you account for the
global non-premium market share
, Huawei doesn't even appear in the top 5. In this scenario, Samsung leads at 22%, followed closely by Apple at 19%.
The P60 phones are expected to go on sale between March 30 (base, Pro) and April 7 (Art). The X3 and Enjoy 60 will be coming at a later date.