Here's How Microsoft 365 Basic At $2 A Month Compares To Other Cloud Storage Plans
OneDrive is Microsoft's answer to the Dropboxes and Google Drives of the world, and it's about to get cheaper.
Microsoft
has announced a new "Basic" tier of the service, which will cost $1.99 per month or $19.99 per year. It replaces a 100GB plan that offered just storage, but this one will have a few useful add-ons. Microsoft 365 Basic won't come with all the features of the more expensive OneDrive subscriptions, but it might be just right for those running low on the free storage that comes with all Microsoft accounts.
The
new Microsoft 365 Basic plan
will be available starting January 30th when it will replace the old 100GB OneDrive plan. Subscribers will get the same 100GB of storage with the new plan, and it removes ads from the Outlook web interface and mobile app. The service also includes additional email security to check suspicious links and scan attachments for malware, but it's strange this is a feature you pay for -- even free Gmail accounts scan for malware and malicious links.
Microsoft says it's bringing more features to Microsoft 365 Basic later this year, too, including password-protected file sharing, ransomware detection and recovery, and bulk file restore. One thing you will not get is the
desktop Office suite
. That's bundled with the more expensive Microsoft 365 Personal tier, which runs $6.99 per month and offers 1TB of storage and allegedly more advanced file protection.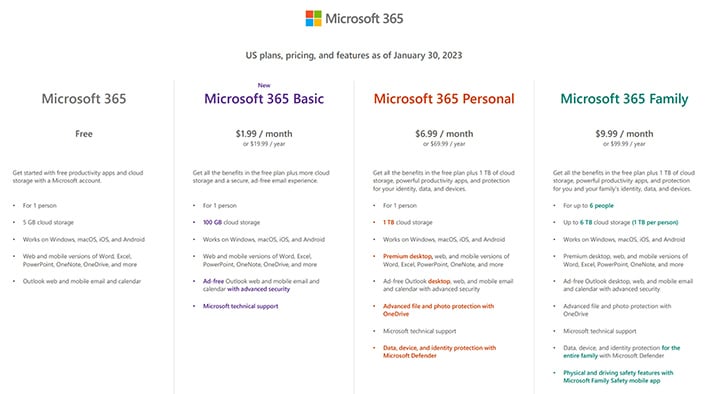 The new Microsoft 365 Basic offers a meaningful upgrade over the free version, but how does it stack up to other entry-level cloud storage offers? Dropbox doesn't really have a comparable plan—it starts at $12 per month for 2TB of storage, and it doesn't include email enhancements. Google One is a closer match for Microsoft's offerings. There's a $2 per month tier that also offers 100GB of space, but it's in Google's cloud, and that's all you get. Google reserves additional features like a VPN and cash-back rewards for higher tiers. Apple iCloud doesn't have a 100GB plan, but it does offer 50GB for $0.99 per month. The step-up is 200GB for $2.99. iCloud includes features like custom mail domains and the "
Private Relay
" VPN.
Microsoft 365 Basic doesn't so much set the standard as it fills an important gap in Microsoft's subscription services. Not everyone needs desktop Office apps, but they might want more than the piddling 5GB of free space. However, it's unclear if Microsoft's security add-ons will make it a better option than Google and Apple, and let's face it, your phone already has one of those cloud connections built in.