Google's Secretly Testing An App To Help iPhone Users Ditch iOS And Switch To Android
Google
is looking to make moving from an iPhone to an Android device less of a headache with a "Switch To Android" app. But if you are wanting to make the move using this new app, you may have to wait a bit longer.
Anyone who has ever made the leap from an iPhone to an Android device knows that it can be a chore. While switching between most devices is done easily enough, either wirelessly or via a cable, moving your data from an iPhone to Android usually requires a few more steps, such as backing up your data to Google Drive and restoring it manually. With Android 12 you can copy over your contacts, apps, and media, but are required to do so with a Lightning cable connection. Google is looking to remove the need for any cables and make switching to Android as painless as possible with its upcoming app.
Apple
has had an app for making the move from an Android phone to iOS easier, called "Move to iOS," for around 5 years. But leaving Apple's ecosystem has remained a bit more challenging.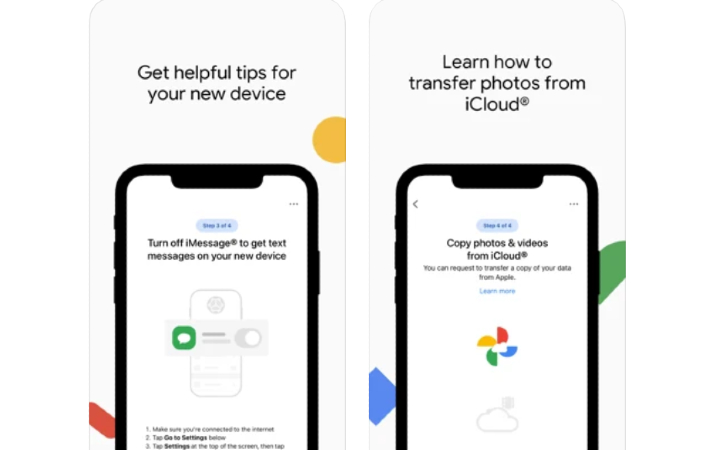 The app's description on the App Store states, "The Switch to Android app from Google helps you quickly and securely move your most important data types -- photos, videos, contacts, and calendar events -- to a brand new Android device without fussy cables." The description does not include the option to move messages between iOS and Android, but does tell you how to go about turning off iMessages so "you don't miss text messages from friends and family."
The
discovery of the app
was reported by
9to5Google
, which found it as an unlisted application in the App Store and only attainable via a
direct link
. An unlisted application is one that has passed the App Store review process, but is not made public and can only be accessed through a private link. It reports that things on the Apple side seems ready to go, however, Android's setup and restore process still needs a little more work. So, if you have been debating on the idea of moving from an iPhone to an Android smartphone, you will have to wait a bit longer to be able to take advantage of Google's upcoming "Switch to Android" app.
Top Image Credit: Apple App Store