Google Previews Pixel 8 Pro, Pixel 8 and Pixel Watch 2 Ahead Of October Release
Google is done beating around the bush—after numerous
leaks
and
teasers
, we've now gotten a good (official) look at the Pixel 8, Pixel 8 Pro, and Pixel Watch 2. There's a new video preview that shows the phones from a few angles, plus the Google Store has a new landing page that features the phones and the Pixel Watch 2.
The video (see below) shows the phones flying into frame and spinning in circles, but we never get a good look at the front. We expect the front to be mostly screen, so you're not missing much. Still, Google might be trying to hold something back for the full announcement. On the back, these phones are clearly part of the Pixel lineage. There's the big camera visor, and a single unified window for all three main sensors on the Pixel 8 Pro.
Both the 8 and 8 Pro look curvier than their predecessors, with highly radiused corners that blend into the tapered visor. The Pixel 8 also looks substantially smaller than the 8 Pro. Previous leaks have suggested that Google's smaller phone was going to shrink, increasing the size gap between the models. It certainly looks like that's happening. There is a serious lack of high-end, compact Android phones, with ASUS offering one of the few viable options with the
Zenfone 10
. Previous leaks also claim Google will
boost its update commitment
for these phones to match Samsung.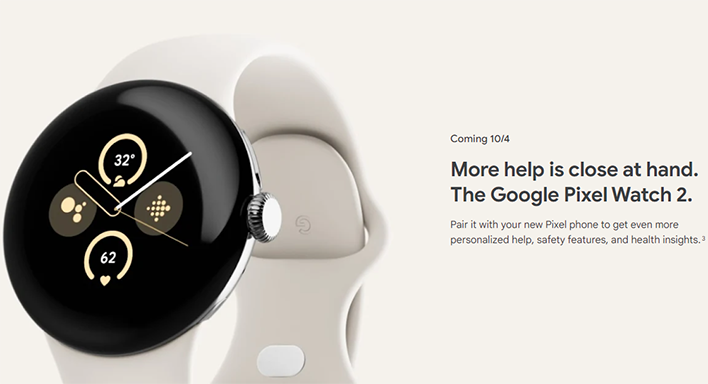 Meanwhile, the
landing page on the Google Store
offers up a few more images of the Pixel 8 and 8 Pro—again, just from the back. Scroll down a bit, and what's that? The Pixel Watch 2 is also official. It looks identical to the first-gen watch from this one picture. There's the rounded case, big glass cover, and prominent crown button. There's no wrist in the image, so we can't ascertain if there's any size difference.
In all of Google's new reveals include a note that you can't get the new devices yet. You'll have to wait until October 4th for pre-orders to begin. That's the day of Google's Pixel hardware event, so you'll be able to get in line for a phone or watch right away.