Google Pixel Fold Versus Samsung Galaxy Z Fold 4 Specs And Price Comparison
Samsung has been the clear leader in foldable phone technology for the past several years, but it finally has some competition. Google
unveiled the Pixel Fold
at I/O this week, following months of leaks and speculation. This device aims for the same ultra-premium market as the
Galaxy Z Fold 4
, but there are some key differences. Let's break it down.
Design
The Pixel Fold and Z Fold 4 are both book-style foldables with a smartphone-like external screen and a foldable tablet display on the inside. Google designed the Pixel Fold to be flatter when folded (just 12.1mm), giving it a sleeker appearance compared to the somewhat ungainly Z Fold 4, which is thicker at the hinge side—15.4mm tapering to 14.2mm. The Pixel and Z Fold have similar fingerprint sensors embedded in the power buttons.
1) The "not folding flat" thing:

Pixel Fold *can* fold flat (or nearly flat). But you need to really bend it to get it there – too much for comfort.

Explanation I was given (by an engineer, not PR): they used a high-friction hinge for rigid positioning. This was the tradeoff. pic.twitter.com/0RGBTrMu4E

— Michael Fisher (@Captain2Phones) May 11, 2023
Google's compact folded shape comes with a drawback, though. Google says the hinge has been tested to be at least as durable as other foldables, and it was designed to have higher friction for rigid positioning. As a result, the Pixel Fold doesn't open completely flat. It gets close, but the Z Fold 4 reportedly feels more like a real tablet when it's open.
Displays
These devices might have similar designs, but the screens don't look alike at all. The Pixel Fold has a 5.8-inch external screen at 2092 x 1080, and the Z Fold 4's is 6.2 inches and 2316 x 904. They both have 120Hz refresh rates, but the resolution (or a quick glance) should clue you into a major difference: the Z Fold 4 display is much taller and narrower. It's a 23.1:9 ratio versus 17.4:9 for the Pixel, which is going to be more usable. Some apps don't render correctly on the Fold 4's narrow display.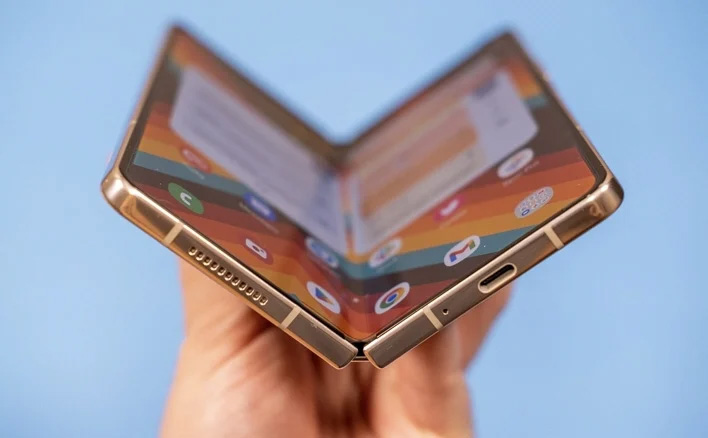 Inside, you'll find more differences. Samsung's foldable emphasizes thin bezels all the way around the screen, and there's an under-display selfie camera that can be a little distracting. The Pixel Fold has more space around the foldable screen, and the top/bottom bezels are bulkier. That does, however, allow for the selfie camera to sit discretely outside the display. The screens both measure 7.6 inches and 120Hz, but Samsung's display is more square-like at 21.6:18 (2176 x 1812) versus Google's 6:5 (2208 x 1840 resolution). The internal screens do have one notable thing in common: the foldable crease is visible running down the middle.
Processor And Memory
Samsung's foldable has last year's Qualcomm Snapdragon 8+ Gen 1, which is still among the fastest mobile chipsets. The Gen 2 is better in every way, but Google isn't using that. It has equipped the Pixel Fold with the custom Tensor G2, the same chip that
debuted in the Pixel 7
late last year. On paper, the Snapdragon and Tensor G2 are similar, with eight CPU cores and powerful GPUs. However, Qualcomm does best Tensor G2 in most benchmarks. That said, Google's Pixel phones are extremely well-optimized for Tensor. The Pixel Fold will likely feel at least as fast as the Z Fold 4.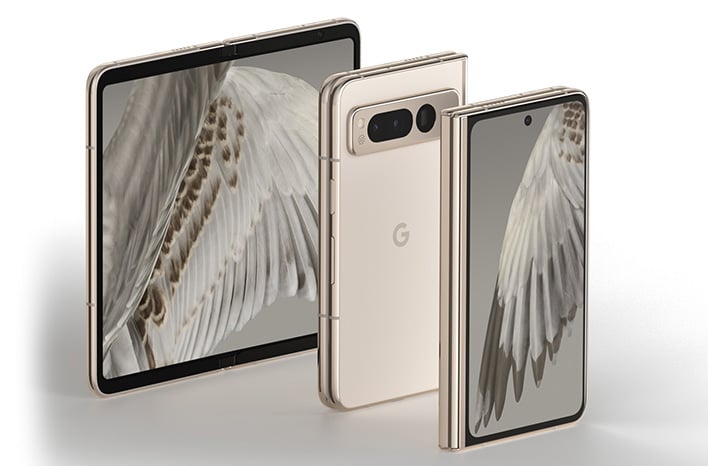 Both foldables have 12GB of RAM, and there are no other options there. All you can do is pay more for additional storage, which you might want to do as they do not have microSD card slots (what does these days?). They both start at 256GB of storage with a 512GB upgrade. The Z Fold 4 also has a 1TB variant.
Software
Samsung's Galaxy Z Fold 4 has been updated to Android 13, and that's what the Pixel Fold will run out of the box. While the underlying features will be the same, the interfaces are much different. Samsung uses the One UI skin, which includes more features than Google's Pixel build of the OS. However, Samsung's software is also a lot more cluttered. The Pixel Fold will have killer Google features like Call Screen and an AI-assisted voice recorder, and the theme engine just makes the phone look nicer.
Foldables thrive on multitasking, and Samsung might have Google beat here. The Fold 4 supports floating apps and a three-app layout, giving you massive multitasking power. The Pixel Fold has Google's handy new taskbar for accessing apps in split-screen, but you can only have two apps up at a time.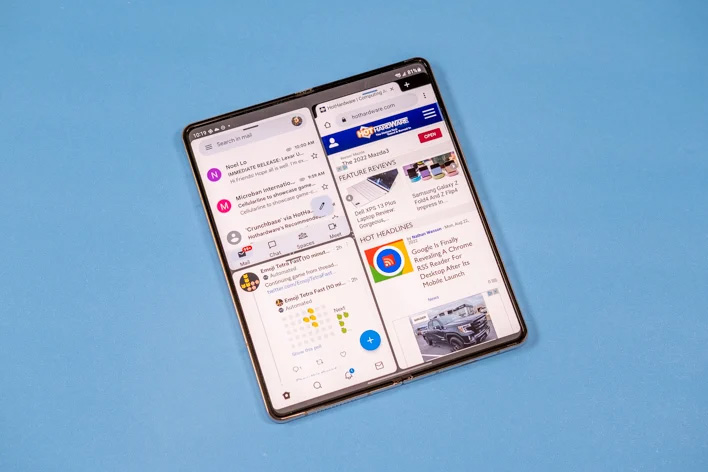 Samsung has a slightly longer update promise for the Z Fold 4 than Google does on the Pixel. That device will get four years of OS updates and five of security patches. Google only guarantees three OS updates and five years of patches. However, Google is much faster to update its phones. The Pixel Fold will have Android 14 early this fall, and Samsung will need months longer to get Android 14 on the Fold 4.
Cameras
Google claims the Pixel Fold has the best cameras on any foldable, and that's probably true based on what we know about other Pixel cameras. The Pixel Fold has a 48MP primary, a 10.8MP ultrawide, and a 10.8MP 5x telephoto. Samsung comes to the table with a 50MP primary, a 12MP ultrawide, and a 10MP 3x telephoto.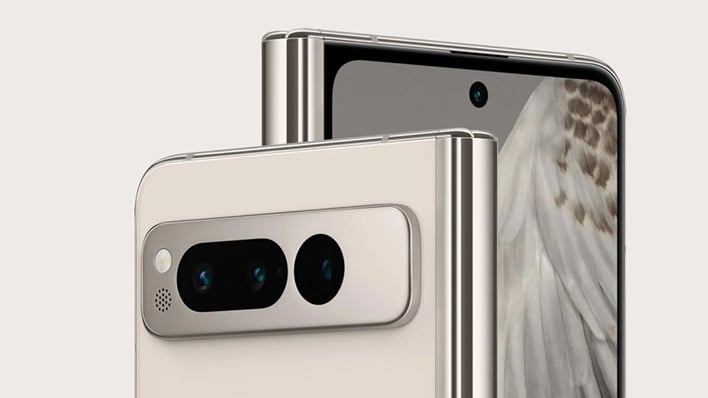 This mostly comes down to the software side of mobile photography. You get all the AI-powered image processing and editing tools as any other Pixel, and the hardware represents a small step up from the Fold 4—that 5x zoom will get you closer to your subject than Samsung's 3x. Samsung is no photography slouch, but it's hard to argue with the Pixel camera experience.
Price
Here's one place where these phones are, unfortunately, on completely even footing. The
Pixel Fold
and
Galaxy Z Fold 4
both cost a staggering $1,799.99 (or more, depending on where you buy it). You could buy multiple flat flagship phones for that price, but foldables aim to offer a new experience. If the idea of true mobile multitasking and multiple usage configurations don't appeal to you, there's no reason to spend that kind of money.