ASUS ROG Matrix GeForce RTX 4090 Is The First GPU To Break The 4GHz Barrier
Extreme overclocking expert Allen 'Splave' Golibersuch inched past the GeForce RTX 4090 4GHz clock speed milestone a few hours ago. Splave recorded an official 4,005MHz using a liquid nitrogen cooled graphics card, and thanked his supporting cast of component makers - ASUS, ASRock, G.Skill, and Enermax - for their excellent hardware.
In June, we recorded the progress of overclockers jockeying to be the first to push an
NVIDIA GeForce RTX 4090
past the 4GHz barrier. In mid-June, overclocker CENS got within touching distance of this milestone, with a record-breaking (at the time)
3,930MHz achieved
. Towards the end of June, Splave made his intent known with a stable
3,945MHz GPU clock
on Nvidia's flagship consumer graphics card.
A few days ago, we saw CENS come back with an RTX 4090 GPU clock speed
achievement of 3,975MHz
. Today, Splave struck back confidently and smashed through the 4GHz milestone, as we had been predicting would be soon achieved in our reporting last month.
Splave's
record-breaking system
was assembled as follows:
ASUS ROG Matrix GeForce RTX 4090 with LN2 cooling etc, clocked at up to 4,005MHz
Intel Core i9 13900K 'Raptor Lake-S' with water cooling, running at 5.4GHz, running at 28°C under load
ASRock Z690 Aqua OC motherboard
G.Skill 32GB (2x 16GB) DDR5-4800 (Gear mode 2) CL40 RAM
We note that the above system is nearly identical to that used in Splave's previous record, with the only notable change being that the overclocking expert swapped out Corsair DDR5 for G.Skill DDR5 RAM.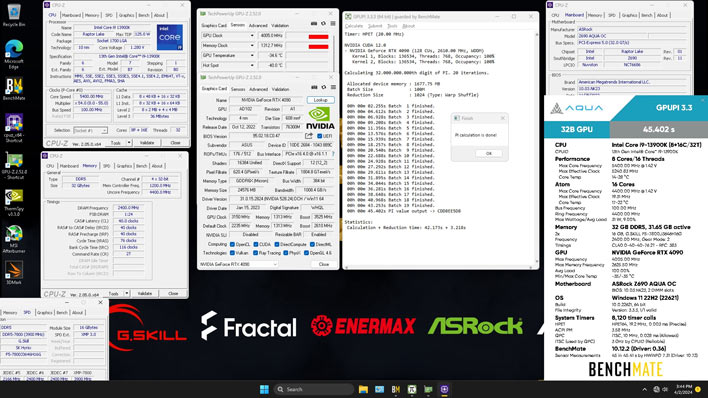 In addition to the headlining RTX 4090 4GHz+ achievement, Splave racked up a new computational world record. Thanks to the superfast
Ada Lovelace GPU
at his disposal, the overclocker managed to calculate Pi to an accuracy of 32 billion digits in 45 seconds and 402 milliseconds using the GPUPi v3.3 app.
The GeForce RTX 4090 had been around nearly nine months before OC experts managed to coax 4GHz out of it. Remember, the reference GPU boost clock is just 2,520MHz. We guess that GPU overclocking excitement might simmer down for now, until the next big milestones like 4.5GHz or even 5GHz are within sight. Considering the 3GHz GPU clock speed milestone was breached about six years ago (NVIDIA GeForce GTX 1060), do readers think it will take another six years to hit 5GHz?