ASUS ROG Matrix GeForce RTX 4090 Nears 4GHz In Wild Overclock Run
Overclocking expert Allen 'Splave' Golibersuch is jubilant after achieving a world record GPU clock speed on a
GeForce RTX 4090
graphics card. In addition to achieving a stable 3,945MHz GPU clock, a world record GPUPi v3.3 32B result was scored.
You can be forgiven for feeling some déjà-vu today, as the RTX 4090 GPU clock world record was broken just 10 days previously by
overclocker CENS
, who went on to complete a GPUPi v3.3 32B and claim a world record. CENS GPU clock and GPUPI score were 3,930MHz and 46 seconds and 383 milliseconds, respectively. Today, Splave's GPU achieved 3,945MHz and a GPUPI score of 46 seconds and 77 milliseconds.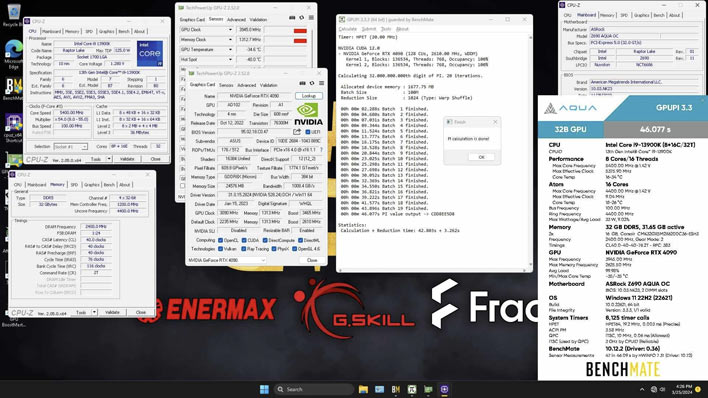 Splave highlighted that the ASUS ROG Matrix GeForce RTX 4090 used during his feat was "completely stock." Some smallprint is required beside that claim though, as of course the stock cooler was swapped out for a plethora of LN2 gear. Specifically, Splave employed "3x Elmor Labs hot300s [controllers], a front heater a back heater and flex heater near the slot on the back side." There was also a Kingpin Cooling TEK-9 Icon Extreme GPU pot used to hold the LN2 supply on the GPU. The heaters were required so nearby components that didn't need extreme cooling were not adversely affected. In addition to the equipment, standard BIOS tinkering and OC software techniques were used, but there were no hardware modifications such as volt-mods.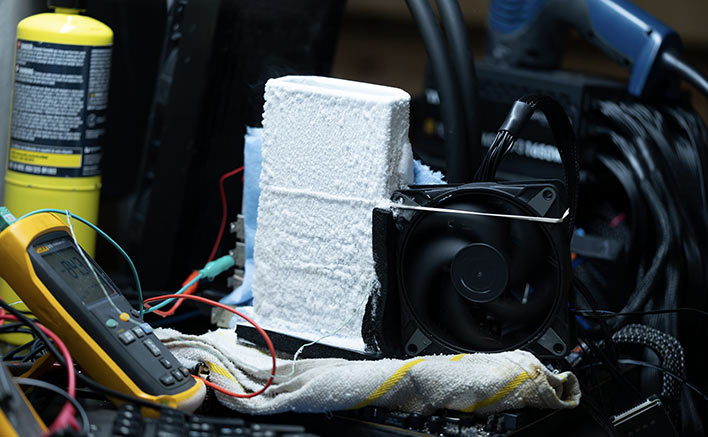 For some perspective on the GPU overclocking feat outlined above, a reference RTX 4090
Ada Lovelace architecture
graphics card will boost to 2,520MHz, which is 1,425MHz slower than Splave achieved.
This
record-breaking system
consisted of the following:
ASUS ROG Matrix GeForce RTX 4090 with LN2 cooling etc, clocked at up to 3,945MHz
Intel Core i9 13900K 'Raptor Lake-S' with water cooling, running at 5.4GHz
ASRock Z690 Qqua OC motherboard
Corsair 32GB DDR5-4800 (Gear mode 2) CL40 RAM
We are getting closer, are within touching distance, but the RTX 4090 4GHz milestone is still out of reach. This time the innovations presented by the comparatively new ASUS ROG Matrix GeForce RTX 4090 seem to have helped. Perhaps its liquid metal attached large copper cooling plate was helpful. Please stay tuned for 4GHz in 3, 2, …