GeForce RTX 4070 Custom-Cooled And Overclocked Cards Start Falling To $549
Imagine a world in which no competition existed for PC hardware components and what that would do to pricing for CPUs, system memory, storage, and graphics cards (among other parts). Yeah, that would royally suck. Fortunately competition
does
exist and because of this, street pricing on some
GeForce RTX 4070
models have started to trend downward. Why exactly is that, though?
Our best guess is the recent release of the
Radeon RX 7800 XT
starting at $499, the newest addition to AMD's lineup of cards based on its latest-generation RDNA 3 architecture. AMD also added the Radeon RX 7700 XT starting at $449 to the mix, but it's the 7800 XT that offers up some competition for the GeForce RTX 4070, which is supposed to start at $599.
The GeForce RTX 4070 is the faster card for the most part, especially when flipping on the ray tracing toggle in games that support it. But for some, the performance gains may not be worth paying an extra $100 (or more) to achieve on NVIDIA hardware. Plus in some cases, the Radeon RX 7800 XT actually beats the GeForce RTX 4070.
Seemingly taking matters into their own hands, some retailers and GPU makers have slashed the price to $549.99 on certain GeForce RTX 4070 models. These aren't vanilla cards, either.
One of the cards that is marked down is
Gigabyte's GeForce RTX 4070 Windforce OC
(pictured above)—it's available for
$549.99 at Amazon
(save $50) and a few other retailers. It has a slightly goosed boost clock of 2,490MHz, compared to NVIDIA's reference 2,475MHz boost clock.
We're not ready to do back flips over a 15MHz factory overclock, but we'll take it. Additionally, Gigabyte's card employs its Windforce cooling system with three alternate-spinning 80mm fans to reduce turbulence and increase airflow pressure, a trio of composite copper heatpipes that make direct contact with the GPU, and an extended heatsink to allow more air to pass through for heat dissipation.

.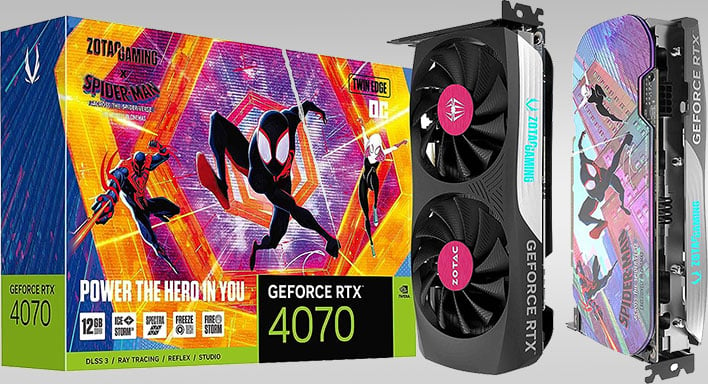 The other card that's been discounted is the Zotac Gaming GeForce RTX Twin Edge OC with a Spider-Man: Across the Spider-Verse inspired theme. It's marked down to $549.99 at Amazon as well, which is a $100 discount over its regular selling price.

This is another factory-overclocked card with a 2,490MHz boost clock but it's the Spider-Man theme that sets it apart from the crowd. It comes with a set of themed fan emblem badges, a themed magnetic backplate, decals, a tote bag, and a themed retail box (for you collectors out there).
You can still make the argument that even with these discounts, pricing is still a bit high for the GeForce RTX 4070. The landscape for this generation of GPUs is what it is, though, and at least we're seeing some interesting sales (something that was unheard up during the GPU shortage).
We'll have to wait and see if more cards fall in line and this becomes the new starting price. In the meantime, here are a few more GPU deals in the $300 to $500 range...