GeForce RTX 3090 SUPER Smiles For The Camera Looking Sleek In All-Black Attire
A prototype GeForce RTX 3090 series graphics card was spotted by @KittyYYuko on X (Twitter), featuring NVIDIA's RTX SUPER series badging and a unique matte black finish. The special card seemingly confirms that NVIDIA was considering reusing its SUPER nomenclature for another generation beyond the RTX 20 series.
Leaks surrounding this specific prototype have been around for at least a year with previous leaks revealing the card's name and unique black aesthetic from another camera angle. However, this latest leak from @KittyYYuko, is the first time the entire card has been pictured from top to bottom and from the front side that shows off all of its unique design traits.
The biggest highlights of this fancy prototype 3090, are its name and the specially painted shroud it comes with. The color modifications made to this RTX 3090 SUPER make this particular model one of the most striking Founders Edition cards to date in my opinion. The card's outer metal frame is painted in a clean glossy black finish that complements the rest of the card's matte black finish. In conjunction with the glossy touches, the card's RTX 3090 SUPER badge was also painted black to match. If NVIDIA actually released this card, the 3090 SUPER's paint job would have stood out among the loads of black and silver RTX 30 series cards that would have come after it, signifying it as NVIDIA's flagship GPU. Similar to the
GTX Titan Black
.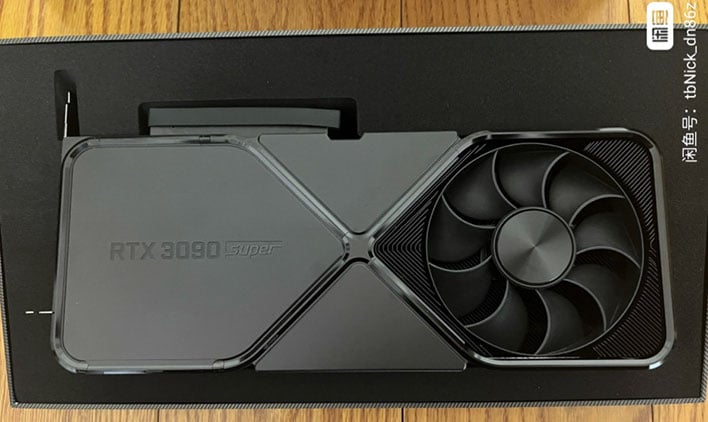 It's a shame NVIDIA never went through with this paint job for any of its Founders Edition cards. It looks gorgeous and would be very pleasing for customers who love black-themed components. NVIDIA could have called these black-themed cards "midnight editions", or something to that effect.
We're not sure when this card was made, but there's good reason to believe it was made before the RTX 30 series debuted in September 2020. The card's SUPER nomenclature is an easy giveaway since it is the only 30-series model — retail or prototype — to feature the name. If NVIDIA was thinking about re-using the Super branding, it would likely have done so from the very beginning before it started shipping TI variants.
Past leaks have reported that this RTX 3090 SUPER is indeed similar to the original version of the
RTX 3090 Ti
that we know of today. The reported specifications of the 3090 SUPER, including the core count, clock speeds, VRAM, and memory speed are all identical to the 3090 Ti. The only difference between the two cards is the name and paint job.
The existence of this card reveals that NVIDIA waited quite a while to lock-in RTX 30 series branding. The
3090 SUPER's appearance
makes us wonder why NVIDIA dropped the SUPER nomenclature after all. Perhaps we'll get an answer one day.