Is A GeForce RTX 2060 Refresh In NVIDIA's Product Pipeline Ahead Of Ampere?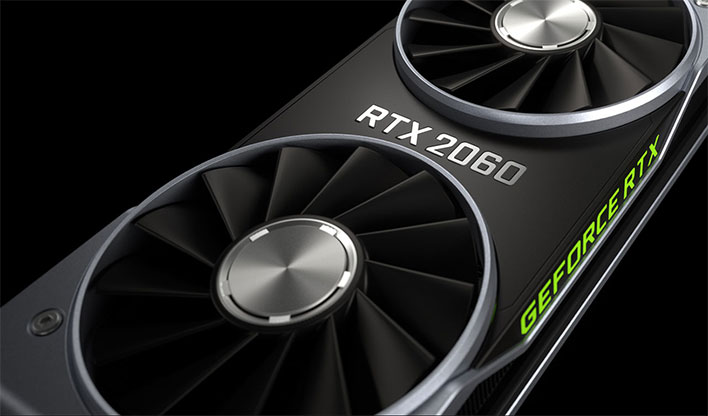 A recent submission to the Eurasian Economic Commission (EEC) website seemingly suggests
NVIDIA
is getting ready to refresh its
GeForce RTX 2060
with more video memory. The listing outlines a handful of products from ASUS, one of NVIDIA's hardware partners, including no less than three GeForce RTX 2060 models with 8GB of RAM.
To be clear, the models referenced in the listing are not
GeForce RTX 2060 Super
cards, or at least there is nothing in the model names to indicate that might be case. This is important to note because the GeForce RTX 2060 Super already boasts 8GB of GDDR6 memory, compared to 6GB of GDDR6 memory on the regular (read:non-Super) variant.
Here's how the two models compare...
GeForce RTX 2060 Super: 2,176 CUDA cores, 272 Tensor cores, 34 RT cores, 1,470MHz base clock, 1,650MHz boost clock, 8GB GDDR6 at 14Gbps
GeForce RTX 2060: 1,920 CUDA cores, 240 Tensor cores, 30 RT cores, 1,365MHz base clock, 1,680MHz boost clock, 6GB GDDR6 at 14Gbps
Wedging a regular GeForce RTX 2060 card with 8GB of GDDR6 memory into the mix would be kind of odd, though the clues are there. First, let's have a look at the EEC listing, as first spotted by PCGamesN...
The EEC listing shows three interesting models from
ASUS
that were recently uploaded. They including the following SKUs...
ROG Strix GeForce RTX 2060 Evo OC Edition (ROG-STRIX-RTX2060-O8G-EVO-GAMING)
ROG Strix GeForce RTX 2060 Evo Advanced Edition (ROG-STRIX-RTX2060-A8G-EVO-GAMING)
ROG Strix GeForce RTX 2060 (ROG-STRIX-RTX2060-8G-EVO-GAMING)
There are a few possibilities. One is that NVIDIA is getting ready to refresh its GeForce RTX 2060 with more memory, and ASUS is first to tip its hand. The second possibility is that ASUS if flying solo here, though that seems less likely. And lastly, these could be typos on the part of whoever provided the data to the EEC (or by the person who punched in the data)—perhaps they are each missing an "S" after the "RTX2060" label, to designate a GeForce RTX 2060 Super variant.
Interestingly enough,
Bethesda
initial outlined the need for a GeForce RTX 2060 with 8GB of video memory as one of the
recommended GPUs for playing Doom Eternal
at 1440p. This has since been corrected to indicate 6GB, but did Bethesda also tip NVIDIA's hand, or was that a simple typo as well?
Our hunch is that no such card is forthcoming, especially now that NVIDIA is presumably about to launch its next-generation
Ampere GPU
. But hey, anything is possible, right?