Gamers Scramble To Buy Steam Deck OLED But Are Met With Frustration
Please Valve, take my money and let me buy your Steam Deck OLED, thought numerous gamers as they try to get their hands on
Valve's newest release
. With some headaches along the way, it appears unfortunately, that this is a a tall order currently. If you're old enough to remember the great GPU shortage of the early 2020s (we hope you are), you'll be familiar with the frustrating checkout process when a store's page is inundated with demand.
This has been my experience trying to get the transaction to go through, to no avail. While the
Steam Store
appears to show the Steam Deck OLED in stock, when going through the entire checkout process, it results in an unexpected error occurring. Having tried different payment methods and browsers was of no help in defeating the mighty errors for the Steam Deck OLED checkout.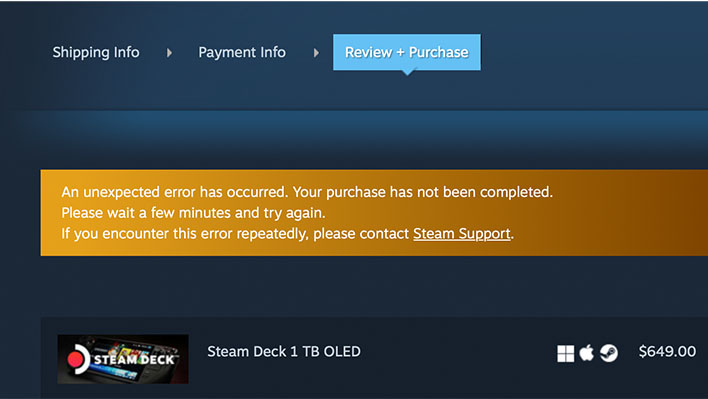 Aiming high for the Steam Deck 1TB OLED, we decided to search around and see if anyone else had these issues before giving up my quest. It seems like various users have been reporting these checkout issues on the
Steam Forums
, so it appears much more widespread than you might think.
While there is no information yet if these checkout errors are due to the surge in demand or some other issue, it certainly does raise the question for this particular product. While the Steam Deck OLED has some fantastic upgrades, mainly its namesake OLED screen, it's not a major update to the original
Steam Deck
LCD.