Galaxy Z Fold 5 May Get A Huge Camera Upgrade And Finally Iron Out The Display Crease
Word is going around that the next Samsung Galaxy Fold 5 could bring some major fan requests—cameras from the S22 Ultra, an
almost
completely flat display crease, plus a dedicated S-Pen slot.
Samsung foldables have had good cameras, but as premium phones with prices to match, we expect the best out of the company. For example, the
Galaxy Fold 4
lags behind the Galaxy S22 Ultra with a 50 megapixel (MP) primary shooter, 3x 10MP optical zoom, and 12MP ultrawide. However, tipster Ice Universe posted some info that might give fans something to rejoice about.
The rumor is that the Galaxy Fold 5 will inherit the 108MP main and 2x 64MP telephoto sensors from the
S22 Ultra
. Obviously, a denser camera package could bring a weight gain; it's said the Fold 5 will ring in at 275g, or about 12g more than its predecessor.
Another possibility for the weight gain could come from a rumor saying that the new Fold will have a proper S-Pen slot, bringing back a page from the
Note series
. According to
The Pulse
, the Galaxy Fold 5 will jump to the said weight and a 6.5mm thickness (up from 6.3mm), hinting at a S-Pen holster.
With the Fold 3, a frequent request for improvement by reviewers and user alike has been the vertical crease down the middle of the display. Visually and tactilely it is distracting, and not to mention falls behind the competition like the Motorola Razr 2022 and
Oppo Find N
-series, both of which have mostly eliminated the crease altogether. The solution for them has been to utilize a waterdrop-like hinge, allowing the panel to unfold completely flat, with no gaps between the two halves.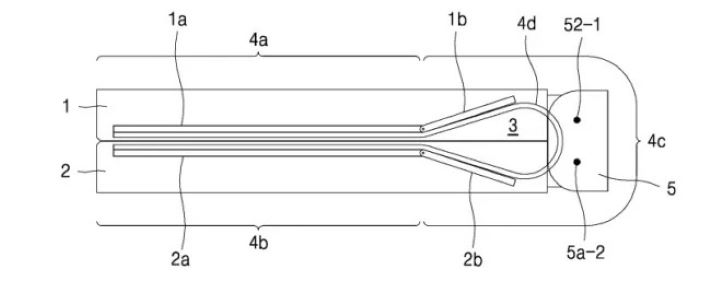 Ice Universe
also tipped that this might soon change with the new Fold. Samsung has had this technical knowhow to deploy a creaseless Fold. In fact, the company holds a patent from 2016 for a similar "dumbbell" design, but has likely chosen to not use it to maintain its industry-leading IPX8 water resistance rating for the Fold 3. Perhaps Samsung has figured out how certify and keep the IPX8 rating with the new "dumbbell" hinge?
Again, please take all these information lightly, but honestly, it would be awesome if even one, let alone all, turn out to be the real deal.