Modular Laptop Maker Framework Now Sells A 2TB SSD Upgrade For Your Steam Deck
Framework has ambitious plans to revolutionize the laptop market by selling a modular notebook for easy DIY repairs and upgrades that extend way beyond just the usual bits (storage, RAM, and Wi-Fi cards). However, it also jumped at the opportunity to offer
Steam Deck
owners a viable storage upgrade by securing a batch of 2TB Western Digital SN740 SSDs.
This is notable for a couple of reasons. First, when you think about Valve's handheld Steam Deck game console, Framework is not the first company that comes to mind. They're not directly related in any way, and before now, they weren't really indirectly related either.
Second, upgrading the storage on a Steam Deck system is a little more challenging than it is for a traditional PC because of the oddball size requirement. Whereas a typical desktop system accommodates full-size NVMe SSDs in the M.2 2280 form factor, the Steam Deck utilizes
shorter M.2 2230 drives
.
Those sets of four numbers denote the width and length measured in millimeters. M.2 2280 SSDs are the most common and measure 22mm wide and 80mm long, whereas M.2 2230 drives also measure 22mm wide but are just 30mm long.
While not impossible to find, there are far fewer M.2 2230 SSD options compared to M.2 2280 drives. The list of available drives whittles down in a hurry, too, if you ignore off-brand models. It's especially difficult to find M.2 2230 models that are 2TB in capacity. And while you could mod a full-size M.2 2280 SSD to fit,
Valve warns against
going that route.
"Unlike the 2280-sized M.2 SSDs that the Framework Laptop uses, the handheld Steam Deck relies on the physically smaller but less common 2230 format. As a result, it can be difficult to find legitimate sources for larger capacity drives like 2TB ones to load all of those games that you're totally going to play someday. Since we order a huge number of Western Digital drives already, it's relatively easy for us to add one more line item and stock 2TB SN740 2230 ones," Framework explains in a
blog post
.
Framework essentially saw an opportunity and pounced on it. It appears sold out at the moment, but Framework's
2TB WD SN740 product page
lists the drive for $299.
This is a PCIe Gen 4 model that is rated to deliver up to 5,150MB/s of sequential read performance and up to 4,850MB/s of sequential read performance, along with 650,000 IOPS and 800,000 IOPS for 4K random reads and writes, respectively.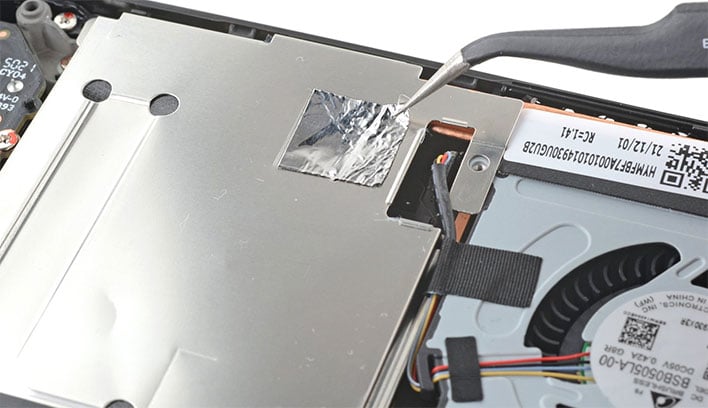 Source: iFixIt
Swapping out the SSD on the Steam Deck isn't overly difficult, though there is some disassembly required. There's a step-by-step
guide on iFixIt
. The one thing to be aware of is you'll want to be careful when removing a piece of foil tape that covers one of the screws. If you do end up tearing it, though, you can cut a piece of aluminum foil tape purchased online or from a local hardware store. The site estimates the entire process to take between 20 minutes to 1 hour.
If you're not looking to go all the way up to 2TB, a fast alternative is Sabrent's 1TB Rocket 2230, which you can buy on
Amazon for $159.99
. For reference, the beefiest stock storage Valve offers is 512GB on the Steam Deck.