Ford Mustang Shelby GT350 And GT350R Heritage Editions Are Sweet Nods To 1965 Model
Ford
is enjoying a fair amount of buzz right now with the theatrical release of Ford v Ferrari, starring Christian Bale as Ken Miles and Matt Damon as Carroll Shelby in their battle to win 24 Hours of Le Mans. A year before all that went down, however, Ford hit the track with its first 1965 Mustang Shelby GT350 fastback coupe. For car buffs who have a nostalgic itch to scratch, Ford is now offering a limited edition Heritage Edition package for its 2020 Mustang Shelby GT 350 and GT350R models.
"Looking back on it, what Ford and Carroll Shelby created back in the mid-'60s was so important to Mustang," said Jim Owens, Ford Mustang marketing manager. "With their authentic exterior livery, unique appointments and performance Ken could have only dreamed of, the Mustang Shelby GT350 and GT350R Heritage Edition Package vehicles are a meaningful tribute to the legacy of the Shelby brand."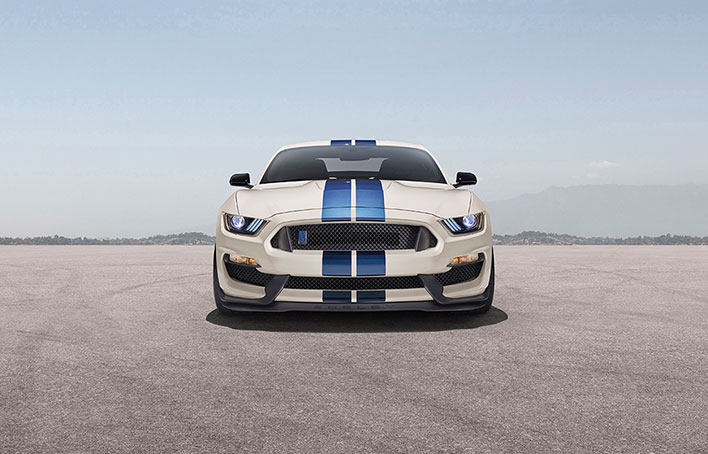 The Heritage Edition package adds $1,965 to the cost of either model. It entails a custom paint job in classic Wimbledon White with Guardsman Blue race stripes on the side and top, in tribute to the 1965 GT350 competition model developed by Carroll Shelby. Since then, the United States has sported blue and white as its assigned international racing colors.
Beyond the racing stripes, Heritage Edition features include front and rear exterior Cobra badges finished in Guardsman Blue and a unique dash badge inside, along with all-black seats with red stitching, Ford says.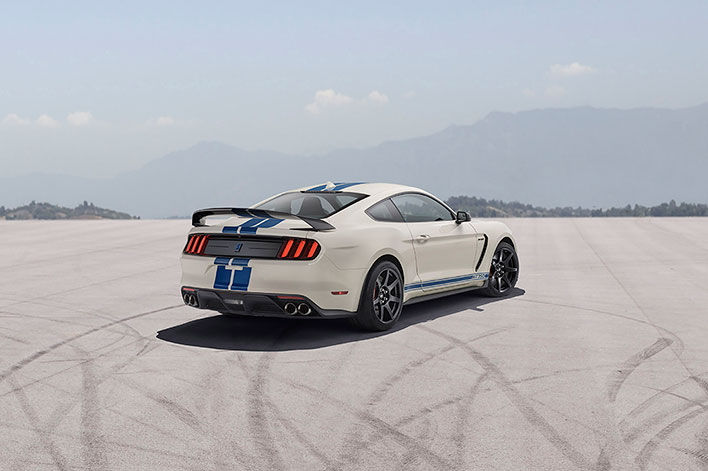 Ford recently outfitted the Shelby GT350 with a bunch of upgrades that made it even more of a beast (though not as beastly as its
Mustang Shelby GT500
), such as revised front chassis geometry for better steering and improved antilock brakes. The Heritage Edition package is icing on an already delicious cake.
Starting price for a 2020 Mustang Shelby GT350 is $60,440, while the Mustang Shelby GT350R starts at $73,435. Taxes, title, delivery, and license fees are extra, of course, as is the Heritage Package.