Ember's Heated Travel Mug 2+ Takes Coffee So Seriously It Can Be Tracked By iPhones
You are taking your kids on a spring break road trip, you decided to drive through the night because at least it's quiet, but you're out of coffee. You stop at a convenience store, fill up your favorite mug, maybe chat up the convenience store clerk a little and head back to your car. You've double checked your pockets, you sit down in the car and drive off. You reach for your fresh coffee and the mug is not there. Oops, you left it, or dropped it, or placed it on the top of your car and drove away! Ember's latest Travel Mug looks to, at the very least, prevent that loss from being permanent.
How many people have had that almost exact story? Every one of us may have done something similar at least once. Thanks to Ember's new Travel Mug 2+, you may never (permanently) lose your favorite travel mug again. During its
CES
announcement this year, the company announced that in addition to the precise temperature controls Ember mugs already support, this particular device also has an integration with Apple's "Find My" device functionality.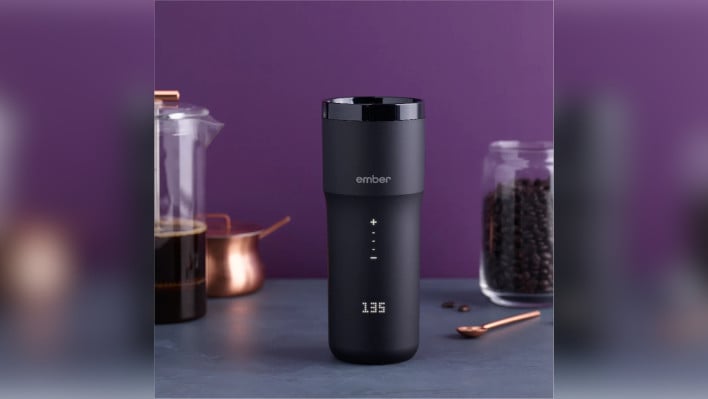 Photo Ember Travel Mug 2 in front of Coffee Beans
Ember's first smart mug managed to surpass its
funding goal on IndieGoGo
way back in 2016, by raising more than $360,000 total, with the funding goal being reached in November of 2015 at $278,124. Today, it not only provides personal liquid heating devices, it also provides cooling solutions with a focus on the medical field. The intent being that certain medications, or even critical organ transplants, must be kept at specific temperatures during transport.
The mug is planned to have the same price tag as its predecessor, the
Ember Travel Mug 2
, which is around $200. We don't imagine anyone will want to lose that mug, so the integration with a tracking system makes sense. Also, because of the medical transport wing of the organization, it might make sense to add the tech to that line-up as well. The mug is slated to be released in Q2 of 2023. So coffee (and tea) lovers, be sure to keep an eye out for this tech-oriented upgrade for your caffeine fix.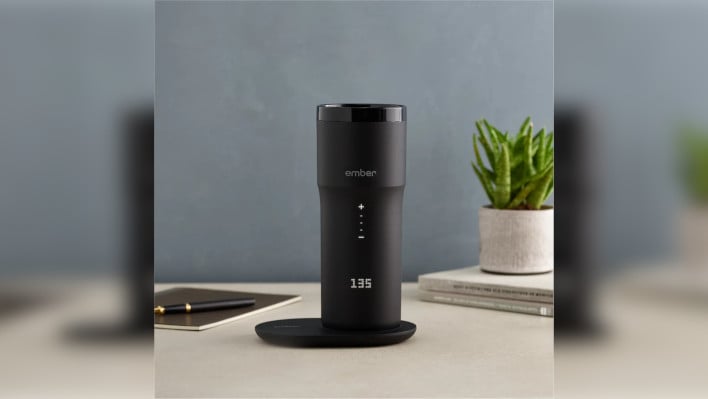 Image of Ember Travel Mug 2 on Charger
We're still at CES 2023, and are keeping an eye out for the hottest
HotHardware
we can find. Stay with us as we add to our coverage!