Amazing Drone Footage Of A Bear Chasing A Man Is Real And Has A Surprise Twist
Amazing drone footage of a bear chasing a man along a trail in the woods will send shivers down the spine. Some questioned the validity of the video and whether or not it had been digitally altered. Spoiler alert: it wasn't, though there is a surprise twist to the story.
The footage was first shared on Reddit nearly two years ago, but has regained attention due to a recent tweet. Reddit user namey_mcnameson posted the short
aerial footage
with the heading "Such a lovely day to test out my
drone
." Some who viewed the incredible footage quickly began questioning if the man escaped the intimidating bear, while others questioned if the footage had been tampered with.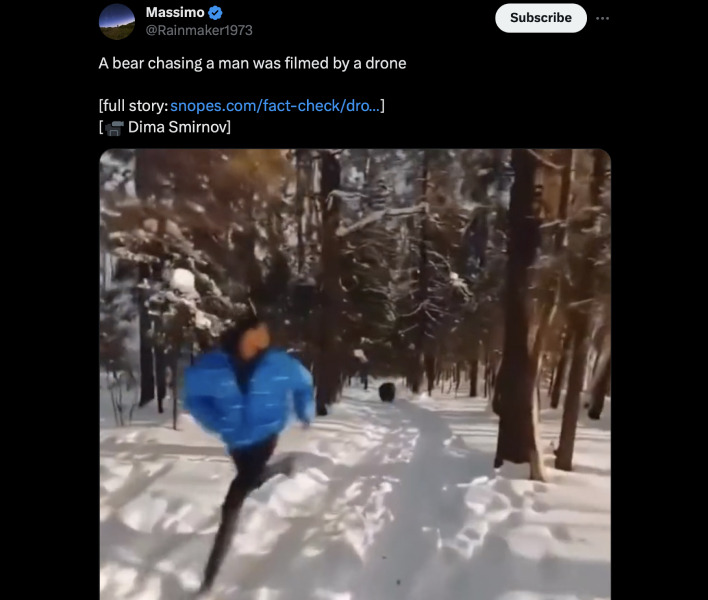 The footage begins above the tree line as it descends toward an opening in the forest. The drone then followed a footpath into the woods revealing a man seemingly running for his life from a large bear. As the drone passed the bear it turned, showing the bear hesitating for a split second to see what had just buzzed by it.
Snopes took on the challenge of finding out if the low-quality footage had been altered in any manner. The investigative site reported that it first thought it had uncovered evidence that the video had been at least partially faked with visual effects. However, it later found out that the bear was in fact real.
The proof was sent to the investigators via an email from Dima Smirnov. He was the person that captured the drone footage in question. Smirnov told Snopes that the bear in the footage was a trained bear and that the footage had been stolen from him by the @standartantares TikTok channel. The man running from the bear was @black4riday on Instagram, who also confirmed the bear was real. Smirnov further proved that the drone footage was not altered by providing a video that Snopes posted on YouTube.
With all the advancements of AI in video editing, it is easy to dismiss videos like the
bear chasing a man
. However, just because something appears impossible doesn't mean it is. Just in this case, the man thankfully was not running for his life as it would appear upon first viewing.