Discord Is Bringing Clyde To Life With ChatGPT AI For Millions Of Servers
Discord may not be the first place one would think about when it comes to artificial intelligence (AI), but it is quickly becoming the place to find groups discussing and exploring the future of the technology. Now, Discord is expanding on the AI experience by adding a few new AI experiences on the platform.
The interest in AI has been growing as of late with the introduction of several new AI chatbots with
ChatGPT
functionality. With the growing interest, there are nearly 3 million Discord servers that include an AI experience, ranging from generating gaming assets to
AI companies
and AI-based learning communities. Discord says that more than 30 million people already use AI apps on the platform every month. So, it is not surprising that Discord is looking to take advantage of the new interest in the technology by introducing a few new tools of its own.
The Helpful Robot: Clyde
One of the newest AI additions to Discord is its integration with Clyde, the platform's helpful robot. Users may have already noticed that Clyde has been responding to slash commands or DMing a user if they have made an error. Next week the helpful robot is said to be "coming to (artificially intelligent) life," according to a recent blog post by Discord.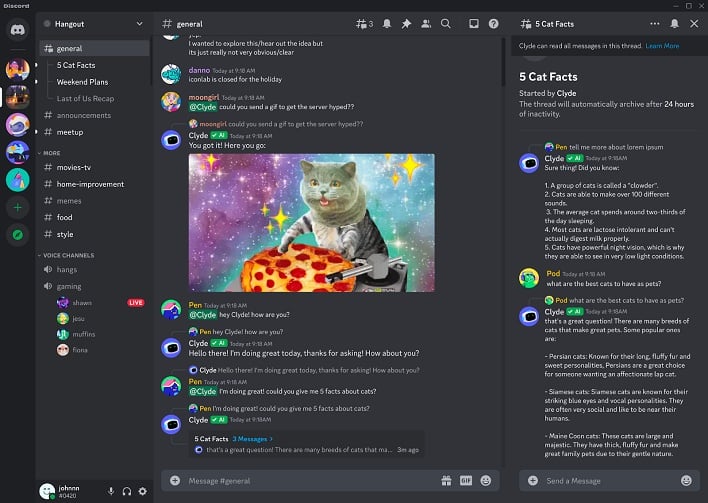 Once Clyde takes on its new AI form, like other
chatbots
it will be able to answer questions and have extended conversations with users and their friends. By typing @Clyde in a server, any user will be able to chat with Clyde on any channel. Clyde will also be able to start a thread for a group of friends. The friendly robot will also be able to recommend playlists, and access GIFs and emojis like any other Discord user. Clyde may even be able to finally put an end to the debate on the proper pronunciation of GIF.
AutoMod AI
Another new feature that has been made available to a limited number of servers already is AutoMod AI. AutoMod has been a very handy feature for many Discord servers since it was added last year, automatically blocking more than 45 million unwanted messages from servers before ever having the chance to see the light of day.
OpenAI
technology to seek out and alert the moderator whenever someone breaks the rules, while keeping in "mind" the context of the conversation.
AI-Generated Conversation Summaries
Not everyone is able to check in on Discord on a regular basis. This means having to scour through all the messages that were posted between check-ins in order to catch up. AI-generated Conversation Summaries will make catching up a lot easier and faster.
Discord AI Incubator
If you happen to be in the field of AI technology, Discord AI Incubator may be of interest to you. The platform announced the creation of its first ecosystem fund and a $5 million commitment to funding strategic partners, developers, and early-stage start-ups last year in an attempt to bring their creativity to Discord. Now, as part of that funding, Discord is launching an AI incubator and dedicating resources to developers who desire to build AI on the platform. Developers can learn more at
discord.com/build
.
If you would like to learn more about what
Discord
is planning in terms of AI, you can visit its website.