Here's What Snapchat's My AI Chatbot Powered By ChatGPT Can Do
Snapchat has launched its own AI chatbot running the latest version of OpenAI's GPT technology customized for the platform. The new experimental feature is being rolled out to
Snapchat+ subscribers
this week.
AI chatbots have been all the rage lately. Whether it's
ChatGPT
battling it out with Google Search, or Microsoft's
Bing AI
chatbot, the talk of these chatty friends has soared in recent weeks. Now, Snapchat is looking to add an AI chatbot to its highly-popular app, called "My AI."
Evan Spiegel, Snap CEO, said in a recent interview, "The big idea is that in addition to talking to our friends and family every day, we're going to talk to AI every day." He added, "And this is something we're well positioned to do as a messaging service."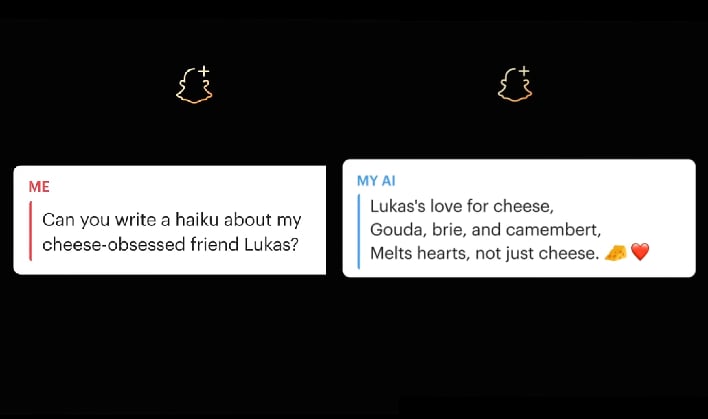 While other AI chatbots have been caught in some disturbing conversations, Snap says it has conditioned its chatbot to adhere to the company's trust and safety guidelines. This is in an attempt to avoid any responses that could include cursing, violence, sexually explicit content, or give its opinion on topics such as politics and religion.
The company does warn that even with all the safeguards it has put into place, the AI chatbot can still be tricked into saying just about anything. In a blog post, the company stated, "Please be aware of its many deficiencies and sorry in advance!" It also warns users not to share any of their dark secrets with the AI, or to rely on it for advice.
Snap describes the new AI friend as one that can recommend birthday gifts for your bestie, plan a hiking trip, suggest a recipe for your upcoming date, or even write a haiku about cheese for your "cheddar-obsessed" friend. Users will even be able to give their new friend a name and customize the wallpaper for your Chat.
Users can leave feedback by pressing and holding on messages from the My AI tool in order to submit anything strange they may incur.
The new venture is geared at driving more users to pay for the subscription service in order to use
My AI
. Spiegel says this is just the beginning of a major investment area for Snap, as he believes people will be talking to an AI chatbot like it's a person in the near future.