Crucial's T700 PCIe 5.0 SSD Reportedly Slows To HDD Speeds Without A Heatsink
PCIe 5.0 SSDs are the latest component PC DIYers have to
strap a fan to
, simply to maintain the advertised level of perky performance. Ample evidence of this is already available, but just how bad thermals can affect the latest storage has been crystallized in a social media post by
ComputerBase
. The German tech site's testing of a shiny new Crucial T700, sans-cooler, shows transfer speeds can throttle down to ancient HDD performance levels, if the storage device is left to run au naturale.
We previewed the
Phison E26 SSD
way back during CES 2023 (January). At the time, we noted that this PCIe 5.0 x4 reference design featured a new kind of heatsink, with an active fan. Back in January, Phison told us that "the cooler is absolutely not required," but its presence raised an eyebrow or two. Previous generation M.2 NVMe SSDs didn't need such accessories to do their day-to-day duty with aplomb.
ComputerBase
was inquisitive enough to decide to test its Crucial T700 review sample without any cooler. There are a lot of passive / fanless computer enthusiasts out there, so their curiosity is valid. Moreover, Crucial T700 purchasers have to stump up an extra $30 to buy a model with the standard cooler. Obviously, this seems to mean you should use your own cooling solution if you forgo the Crucial solution - not simply do without one.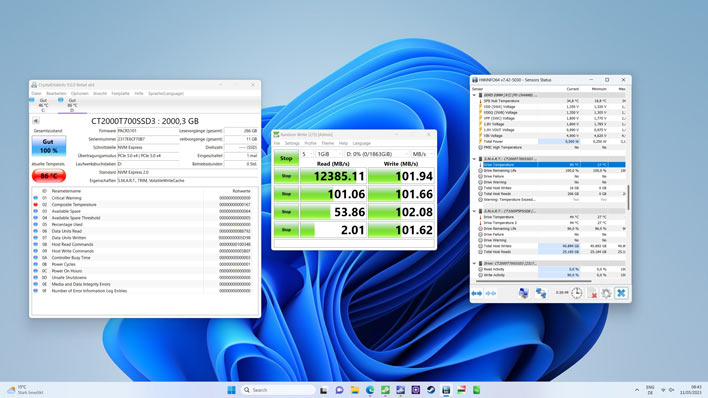 In the screenshot above, you can see some system info tools and a CrystalDiskMark test was run on a PC system packing a bare Crucial T700 PCIe 5.0 SSD. After the first disk read test, you can see that thermal throttling kicked in and decimated the performance of the SSD. In the wake of the initial impressive 12GB/s read, the subsequent tests all resulted in transfers of ~0.1GB/s or worse. This is painfully slow performance for such an advanced and highly anticipated piece of modern storage technology. Remember, this terrible throttled performance is all due to the removal of the stock cooler, and users wouldn't usually experience such bad performance with Crucial's cooler in place, or their own third-party solution.
A small consolation for Crucial T700 PCIe 5.0 SSD users is that the thermal throttling didn't make the drive grind to a
complete
halt. This go-slow behavior is preferable to the similar
Corsair MP700 SSD
, which we reported on yesterday. Corsair's SSD, which is also based on the Phison E26 controller and Micron 232-layer 3D TLC NAND flash, actually may experience
thermal shutdown
under some circumstances. We think Crucial's custom firmware must be doing a better thermal curve management job.
Phison has created new firmware for its E26 controller partners, which should benefit everyone. Brands that have adopted this toasty controller for their NVMe PCIe 5.0 SSDs include the aforementioned Corsair and Crucial, as well as ADATA, Gigabyte, and several others.