CableMod Previews Its GeForce RTX 4090 Power Adapter And Gamers Are Stoked
The latest
NVIDIA
GPUs require a new 12VHPWR power cable. That means new challenges for anyone obsessed with cable management. As it stands today, 8-pin to 12VHPWR adapters are bulky and the first wave of cards that require them are enormous. But CableMod is coming to the rescue. The company plans to release a 12VHPWR adapter that will help streamline cable management, and it might even help facilitate proper installation to keep your video card from melting.
NVIDIA adopted the 16-pin 12VHPWR cable for the RTX
40-series
(30-series Founders Edition cards used a 12-pin only connector) because it potentially allows for up to four times the power draw as an 8-pin PCIe cable and it can make cable management easier. Although, that latter point is arguably only true if you have a new ATX 3.0 power supply with native 12VHPWR cable. Otherwise, you'll have to plug multiple 8-pin PCIe cables into a gangly splitter, and the incredible size of today's video cards means you may have little clearance in your case. Late last year, CableMod promised it would develop an angled adapter to alleviate this concern, and it is well on the way.
CableMod has
posted a photo
of its prototype connector (above), which it claims is already undergoing testing by industry experts. The connector will come in both 90 and 180-degree variants, allowing you to more carefully route cables to avoid crimping while maintaining a sleek appearance.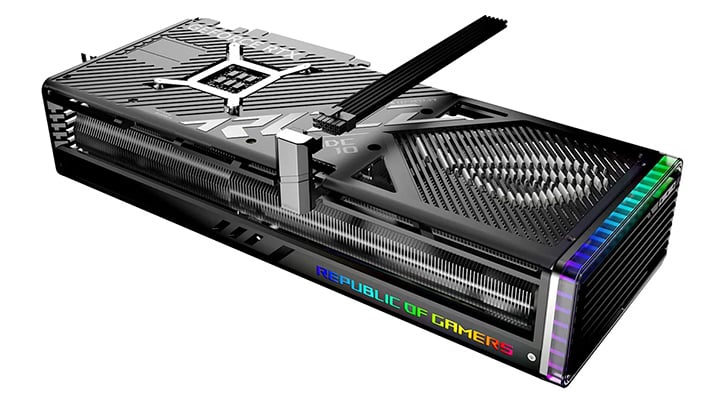 There may be another important advantage of the adapter as well—it could save your 12VHPWR connector from overheating. We've seen a spate of
melting 12VHPWR connectors
in the wake of NVIDIA's RTX 40-series launch, and most parties now agree this is a result of cables that were not plugged in all the way. These faults are more common when you're trying to plug multiple heavy cables, into an adapter, which in turn plugs into an oversized GPU that barely fits in your case. The CableMod adapter is less than 23mm tall, makes it easier to plug the cable in securely, and allows for strategic routing of cables, without undue tugging on the connector.
CableMod hasn't given a precise release date, but the
timeline on its website
calls for initial manufacturing in January and a release in February. With the new image, it appears things are right on track.