AYN Loki Low Cost Handheld PC Gaming Console Is Coming To Challenge Valve's Steam Deck
The Steam Deck is the
handheld PC gaming console everyone wants
, and a big reason why is because Valve came out of the gate with aggressive pricing. Combine that with easy access to Steam games and optional Windows support, and it's easy to see why it's in such high demand. Well, it might getting some competition very soon.
AYN has unveiled a potential competitor called Loki and is billing it as "the most affordable Windows handheld ever created. Period." It starts at $299 for the Loki Mini variant, which is $100 less than the least expensive Steam Deck model. That configuration is built around an Intel
Alder Lake-U mobile processor
with 64GB of built in storage.
Other specs are still under lock and key, such as the amount of RAM, screen size, and resolution. However, if AYN sticks with the same mold as its Odin Android handheld, then the Loki will feature a 5.98-inch screen with a 1920x1080 resolution. Those specs have not been confirmed, though.
There are four other higher end configurations on tap, each with an
AMD Zen 3+
mobile processor inside. Here's the full lineup...
Loki Mini ($299): Alder Lake-U, 64GB storage
Loki ($499): Ryzen 5 6600U, 64GB storage
Loki ($599): Ryzen 5 6600U, 256GB storage
Loki ($699): Ryzen 5 6600U, 512GB storage
Loki Max ($799): Ryzen 7 6800U, 512GB storage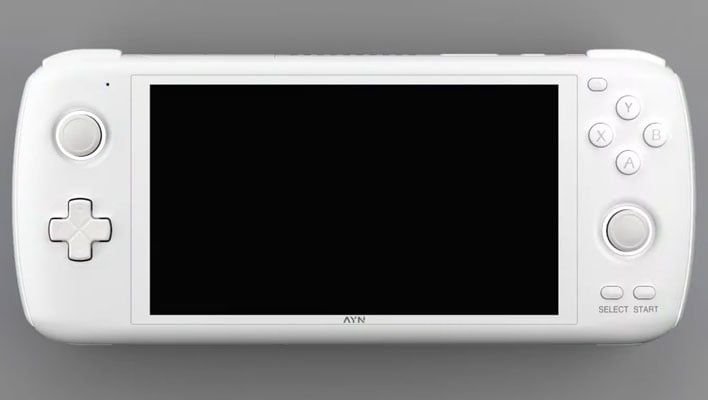 The Ryzen 5 6600U is a 6-core/12-thread chip with a 2.9GHz base clock, 4.5GHz max boost clock, and 16MB of L3 cache. Essentially an APU, it's also served by an integrated Radeon 660M GPU with 6 compute units (CUs) based on AMD's
RDNA 2
graphics architecture, clocked at up to 1.9GHz.
Those who splurge on the Loki Max get a bump to a Ryzen 7 6800U, which is an 8-core/16-thread APU with 2.7GHz base clock, 4.7GHz boost clock, 16MB of L3 cache, and Radeon 680M graphics (12 CUs, 2.2GHz).
For comparison, the Steam Deck wields a custom AMD SoC with a 4-core/8-thread Zen 2 processor clocked at 2.4GHz to 3.5GHz, 8 RDNA 2 CUs clocked at up to 1.6GHz, 16GB of LPDDR5 RAM, and 64GB of eMMC storage in the $399 model, 256GB NVMe SSD in the $529 model, and 512GB high-speed NVMe SSD in the $649 model.

The
specs and pricing of the Loki line
are promising. Even if it ends up falling flat (fingers crossed it won't), it's nice to see more lower cost PC gaming handhelds enter the market.