This ASUS TUF Gaming Motherboard Moves Connectors To The Back For Easier Cable Management
After various concepts, experiments and leaks in the tech press, it looks like
motherboards
with the majority of their surface-mount headers located on the rear are entering into the mainstream. ASUS has released the TUF Gaming B760M-BTF WIFI D4, which brings the PCs and components giant's DIY-APE concept to the market for the first time. This motherboard features the Intel B670 socket for Intel Alder Lake and Raptor Lake CPUs, and other key features are its Micro ATX form factor, use of
DDR4 memory
to save you cash, and built-in Wi-Fi.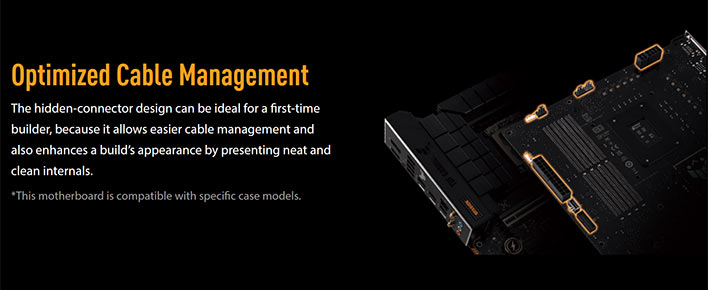 ASUS calls its motherboards with the connectors relocated on the underside its "BTF" designs, with BTF being an acronym for "Back To (the) Future." Having started the series with a mainstream board from the TUF family, it would be reasonable to expect more BTF designs to be released in the coming weeks and months.

The aim of the above-described design choice is to make the inside of a PC system look cleaner, with more cables managed completely out of sight around the back. With this motherboard design layout tweak, the majority of tower PCs with left side windows will give a view to a much simpler system.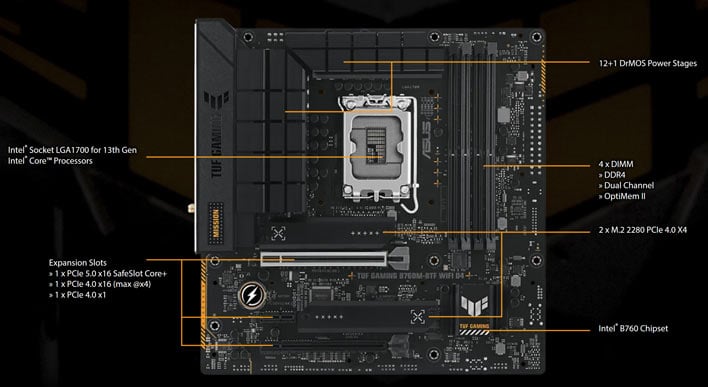 ASUS is providing product pages with diagrams showing both sides of the motherboard with this layout. You can see the example of the
TUF Gaming B760M-BTF WIFI D4
connectors above and below. In the above picture you see, of course, the CPU, RAM, M.2 and PCIe expansion slots remain on the upper side of the motherboard. Below, the diagram shows the numerous and wide range of connectors now at the rear, including an extra M.2 slot, a selection of Front USB headers, a Thunderbolt header, RGB lighting headers, CPU/Chassis fan headers, (four) SATA ports, the CPU power EPS socket, and the bulky 24-pin motherboard power input.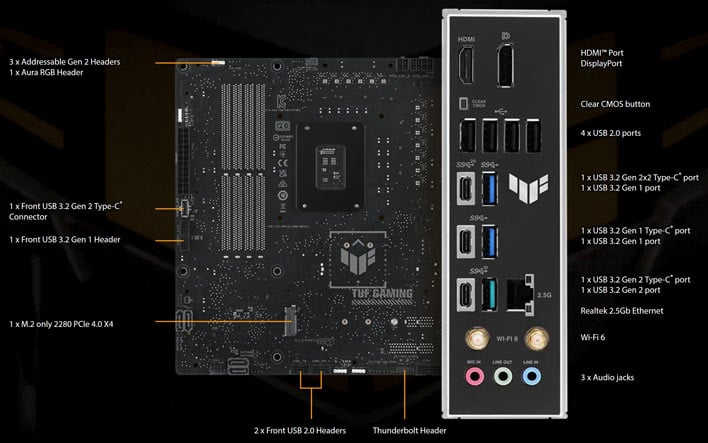 Benchlife.info
spotted
this product launch and says that the ASUS TUF Gaming B760M-BTF WIFI D4 is currently available via retailers in Taiwan. Other motherboard makers have similar concept designs. Gigabyte, for example, has
Stealth series
motherboards with rear mounted connectors, which are currently exclusive to Maingear pre-built systems.
PC DIYers must remember that there are case compatibility concerns to buying a BTF, DIY-APE, or Stealth style motherboard. We encourage potential buyers to look into compatibility very carefully to avoid wasting time and money on system components that don't work or fit together.