ASUS ROG Zenith II Extreme Alpha Emerges As Ultimate 64-Core Threadripper 3990X Motherboard
Forget about bang-for-buck or any semblance of a value proposition, because without apology,
ASUS
chucked those notions out the window and built a beastly motherboard for AMD's third-generation
Ryzen Threadripper 3990X
, a monstrous high-end desktop (HEDT) CPU with 64 physical cores and 128 threads of computing muscle.
The Threadripper 3990X is not even available to purchase yet, but it soon will be—it
launches to retail on February 7, 2020
, for a whopping $3,990. That is a lot of coin, and to be fair, the Threadripper 3990X offers a whole lot of multi-threaded muscle. And as with the rest of the third-generation Threadripper lineup, it requires a socket sTRX4 motherboard.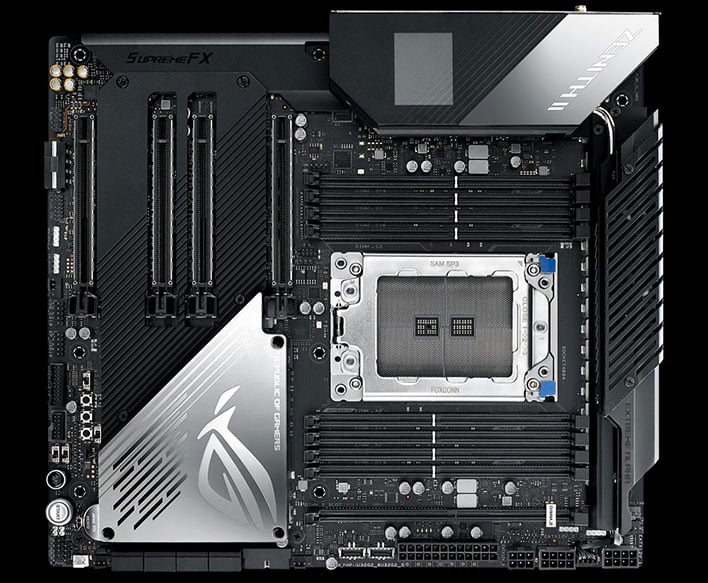 That is where ASUS's new ROG Zenith II Extreme Alpha comes into play. A preliminary listing on Amazon has it sitting at
$849.99
(basically a pre-order price, as the listing says it "usually ships within 1 to 2 months). Combined with the Threadripper 3990X, you're looking at ponying up $4,839.99 just for the CPU and motherboard alone.
Make no mistake, the ROG Zenith II Extreme Alpha is a top shelf slab of electrical traces and high end components. It offers 16 high-current 90A power stages for "supreme efficiency and enhanced headroom for overclocking," and has enough lane bandwidth to connect up to 33 devices simultaneously, with each PCI Express x16 and M.2 slot wired with PCI Express 4.0.
There are four reinforced PCIe x16 ports in all, along with four M.2 slots, four SATA 6Gbps ports powered by the TRX40 chipset, and four more 6Gbps ports powered by an ASMedia controller.
This is a robust motherboard that is built for war. In addition to the main 24-pin power connector, users will find a supplementary 6-pin and dual 8-pin ProCool II power connectors to feed this thing. It also offers a robust VRM setup, 10K black metallic capacitors, microfine alloy chokes, onboard Wi-Fi 6 connectivity, dual LAN ports (including a gigabit Ethernet port and an 10G Aquantia port), and a host of other goodies.
Cooling abounds as well.
"Great power requires great cooling, so ROG Zenith II Extreme Alpha employs large VRM heatsinks that strike the right balance between surface area and mass. The chipset heatsink integrates an active-cooling solution, helping to keep the underlying silicon stay cool under pressure, and also employs the same airflow to chill the SoC VRM. The extra-large heatsinks also cover multiple M.2 slots, meaning Zenith II Extreme Alpha is fully armed to provide the best foundation for extreme PC systems—enabling higher performance at lower temperatures," ASUS explains.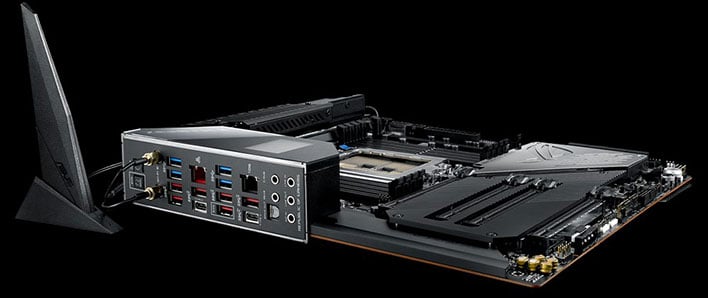 And of course there is the healthy selection of rear connectivity, as shown above. Users get access to four USB 3.2 Gen 2 Type-A ports, a USB 3.2 Gen 2 Type-C port, a USB 3.2 Gen 2x2 (up to 20Gbps) Type-C port, four USB 3.2 Gen 1 ports, audio connectors, and a couple of buttons (BIOS and Clear CMOS).

There's not much to nitpick here, outside of the luxury price tag. For those who can afford it and are wiling to go all-out on a PC setup, value be damned, the ROG Zenith II Extreme Alpha looks like a killer option for AMD's fastest Threadripper processor to date.