ASUS Launches Dual GeForce RTX 2070 MINI For Brawny Intel NUC 9 Extreme Kit
Right on cue,
ASUS
has announced a couple of miniaturized graphics cards for Intel's recently unveiled
NUC 9 Extreme
(or Ghost Canyon NUC). They include the Dual GeForce RTX 2070 Mini, and Dual GeForce RTX 2070 Mini OC Edition, the latter of which is essentially the same card but with a more aggressive factory overclock.
"We are proud that Intel came to us for a GPU solution for their innovative new design and are very satisfied with the performance we are able to squeeze into such a small footprint," said Kent Chien, corporate vice president and general manager of the multimedia business unit at ASUS.
In case you missed it,
Intel
previewed its Ghost Canyon NUC earlier this week at CES. it is a little bit bigger than some of the
NUC designs
we have seen in the past, and promises desktop-class performance with gaming chops from a 5.0-liter form factor. Part of what makes it so intriguing is it can fit an actual graphics card inside, albeit a compact one.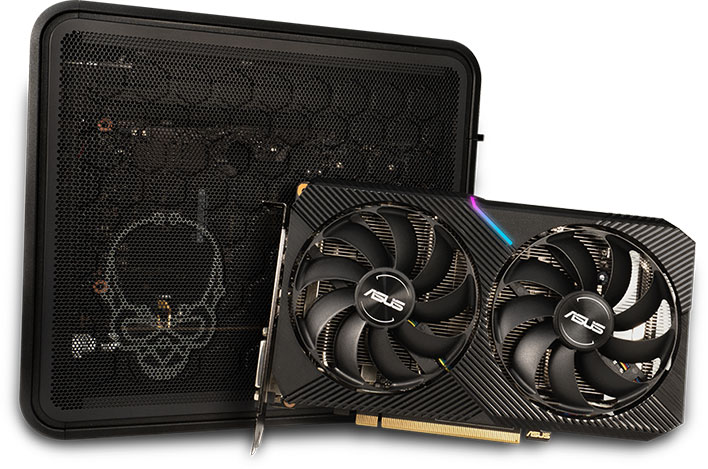 That is where ASUS asserts itself into the equation. It's new Dual GeForce RTX 2070 Mini cards measure just 7.8 inches long and occupy two slots, and "fit precisely" into the Ghost Canyon NUC. Just as importantly, ASUS says it designed the card to keep temperatures in check when installed in a Ghost Canyon NUC, part of which entails taking advantage of the NUC's mesh side panel.
"Additionally, two Axial-tech fans provide high static pressure for even more cooling gains. Originally crafted for top-end ROG graphics cards, Axial-tech fans feature a smaller hub that facilitates longer blades and a barrier ring to whisk air efficiently through the entire heatsink. The cooling solution is so effective that it delivers lower GPU temperatures than many larger cards," ASUS claims.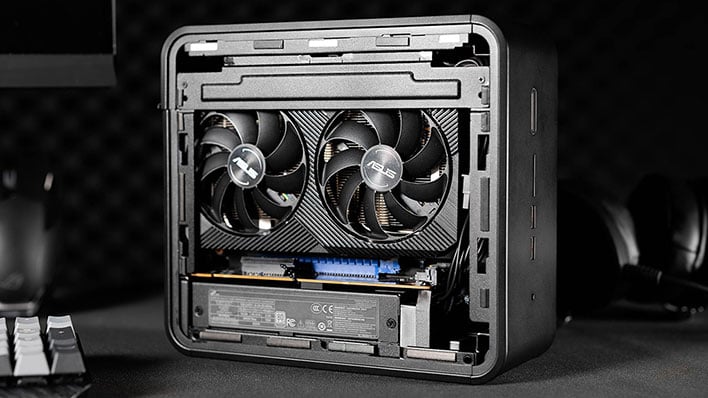 The regular version of the Dual GeForce RTX 2070 Mini sticks to reference specs in game mode, where the boost clock ramps up to 1,620MHz. However, there is also an OC mode, which pushes the boost clock to 1,650MHz. Meanwhile, the Dual GeForce RTX 2070 Mini OC Edition comes out of the box with a 1,650MHz boost clock in game mode, and 1,680MHz boost clock in OC mode.
Connectivity options are the same on both cards, consisting of a DVI-D output, HDMI 2.0b output, and DisplayPort 1.4 output.
While these were designed to fit inside a Ghost Canyon NUC, they are not limited to such devices. They can also run in any small form factor (SFF) PC with the requisite space, and if you really wanted to, you could install either card into a regular desktop as well.
ASUS did not announce pricing, but said both cards will be available today (at the time of this writing, neither one is showing up on Amazon or Newegg just yet). In addition, ASUS says it will launch a Dual GeForce RTX 2060 Mini in the first quarter of this year.