Apple's AI Chief Lets Slip A Secret iOS 17 Search Setting During Google Antitrust Trial
Apple's Senior Vice President of ML and AI Strategy, John Giannandrea, testified during Google's antitrust lawsuit that pointed to a relatively unknown feature in iOS 17 concerning an iPhone's default search engine options. The Cupertino-based company has found itself smack dab in the middle of a lawsuit brought against Google by the Department of Justice about whether or not Google abuses its position in the search industry.
Apple, not named in the lawsuit, received billions of dollars from Google to make it the default search engine on Apple devices. Many analysts believe the deal secures Google this top spot on devices such as an iPhone and MacBook for years to come. This means that when a user on an Apple device performs a search in the combined URL/search bar, the default search engine will be used unless manually changed.
The ability to easily change the default
search engine
was not a feature that Apple touted in the days leading up to and following the release of its
iOS 17
software. However, it seemed significant enough for Giannandrea to bring up during his testimony last week. In fact, he made a point to make it known the feature existed.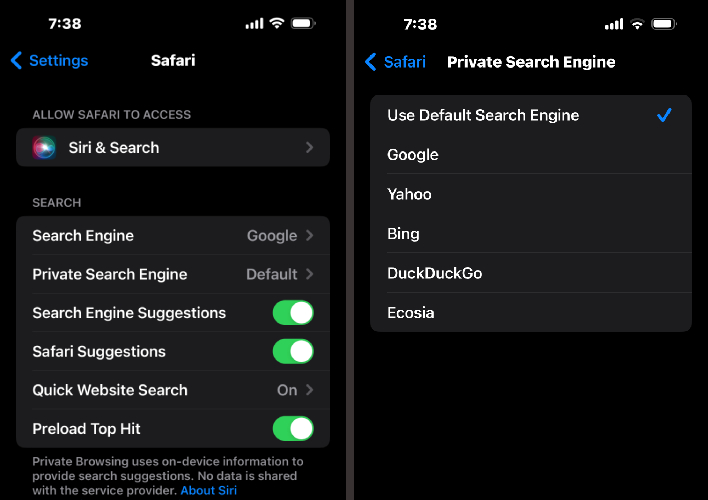 iOS 17 added a new setting allowing users to choose not only their preferred default search engine, but also the ability to select a second default option under the heading "Private Search Engine." Once a user clicks on this heading in the settings menu, they can choose between Google, Yahoo, Bing, DuckDuckGo, and Ecosia.
Some believe Giannandrea's testimony is critical to the DOJ's case against Google. One reason is that he worked for Google for eight years, serving as the company's Senior Vice President of Engineering for Search, before making his way to
Apple
.
DuckDuckGo CEO Gabriel Weinberg also testified at the trial, stating that Google's status as the default search engine on several mobile browsers can be viewed as a barrier preventing users from switching from Google. Weinberg added that he felt "too many steps" were involved, except perhaps in the case of Apple.
Apple
initially tried to argue that no one from Apple needed to testify at the trial, but the court chose otherwise. There will be further testimony given by Apple employees Eddy Cue and Adrian Perica in the coming days.