Apple Is Testing A Beastly M3 MacBook Pro With 16 CPU Cores And 40 GPU Cores
Apple is said to be testing a new round of MacBook Pro models kitted with next-generation M3 silicon, including the eventual M3 Max with more CPU and GPU cores than found on the current-generation
M2 Max
. If the information is true, Apple will formally introduce the M3 family in October, followed by rolling out upgraded MacBook Pro models and other hardware kitted with the faster silicon.
In case you missed it, we
reviewed the MacBook Pro 16
configured with an M2 Max chip and found it to be a powerful machine with incredible battery life to boot. The M2 Max is an impressive slice of silicon built on a 5-nanometer manufacturing process with 67 billion transistors, 12 CPU cores, up to 38 GPU cores, 16 Neural Engine cores, and 400GB/s of memory bandwidth.
That's some serious firepower but it's reportedly soon to be usurped by the M3 Max, which Bloomberg discovered hiding out in test logs from a third-party Mac app developer. According to those logs, the M3 Max will power a beefy MacBook Pro identified as model J514, which will make its debut next year (likely in January, if Apple follows the same release cadence as it did for the current generation models).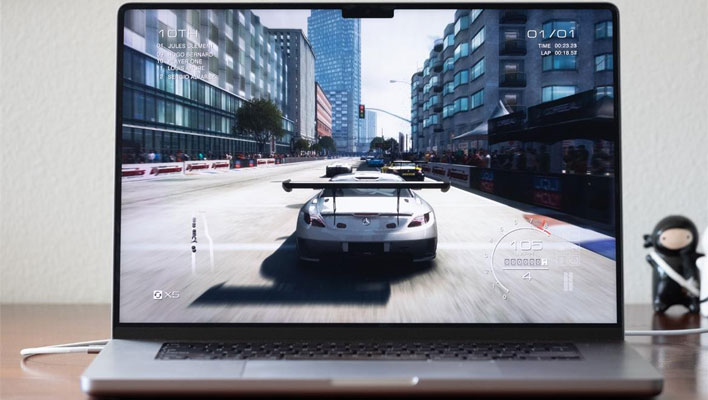 Those logs also reveal some key upgrades to Apple's custom silicon. If they prove accurate, the M3 Max will see a bump to 16 CPU cores and 40 GPU cores, representing physical gains of 33.3% and 5.3%, respectively. Additionally, the MacBook Pro in question was also outfitted with 48GB of system RAM. Current models can be configured with 32GB, 64GB, and 96GB of memory.
Interestingly, the M2 Max debuted with two additional CPU cores and six additional GPU cores compared to the M1 Max, whereas the M3 Max will add four more CPU cores and two more GPU cores versus the M2 Max. There could be other configurations at play, but assuming this is the setup that Apple settles on, it would appear that the emphasis will be on maintaining or increasing power efficiency while still offering a bump in graphics performance, albeit not as dramatic as before.
This will also be the case with a shift to a 3-nanometer manufacturing process. That said, it will be interesting to see what other upgrades are in store, such as another bump in memory bandwidth, and what specific performance claims Apple will be making in reference to the M3 family. If the leaked
M3 test logs
are any indication, we'll find out in several weeks.