Apple Plugs A Gaping Zero-Day Security Hole In iPhone And iPad, Install ASAP
As we await the
next generation of iPhone
, Apple is engaged with other issues at the current moment, such as two new vulnerabilities discovered in iOS, iPadOS, watchOS, and MacOS. As such, Apple device owners should update their devices as soon as possible with the released security patch to prevent the infection chain for NSO Group's Pegasus spyware.
At the top of September, The Citizen Lab was investigating the device of someone who worked in Washington, DC, at a "civil society organization with international offices." In this investigation, the team found an actively exploited infection chain tied to the NSO Group's Pegasus spyware. This exploit chain was dubbed BLASTPASS and was "capable of compromising iPhones running the latest version of iOS (16.6) without any interaction from the victim."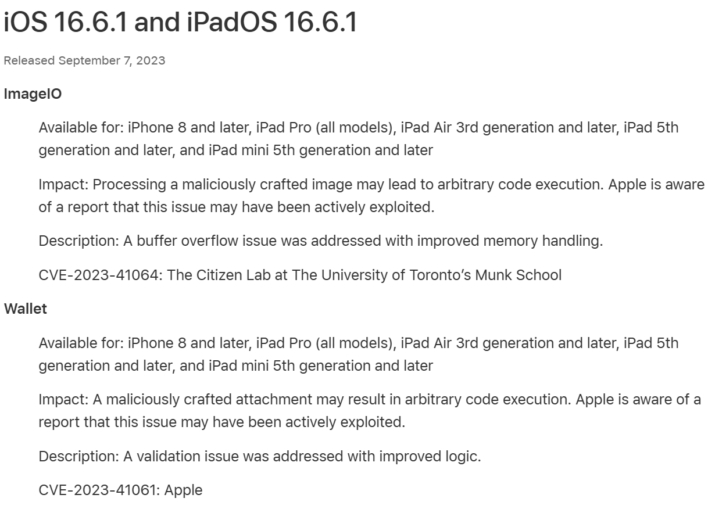 This infection chain was predicated on PassKit attachments with malicious images sent from a threat actor's iMessage to the victim, who did not have to interact with the content, per The Citizen Lab report. Subsequently, the Lab sent its findings to Apple, whereupon two CVEs, or Common Vulnerabilities and Exposures, were generated:
CVE-2023-41064
and
CVE-2023-41061
.
With this, Apple has pushed an update to iOS, iPadOS, watchOS, and MacOS that targets the vulnerabilities mentioned above within ImageIO and Wallet. Of course, it is highly recommended that Apple users update all their devices to this latest update to protect themselves from the infection chain. However,
The Citizen Lab notes
that "Apple's Security Engineering and Architecture team has confirmed to [the Lab], that Lockdown Mode blocks this particular attack."
For those unaware,
Lockdown Mode
is an option available in iOS 16, iPadOS 16, and macOS Ventura that reduces the attack surface of the device by disabling certain functions. Therefore, if you think you are at risk, it is worth enabling this setting as it seems to disrupt many of these zero-day, zero-click
exploit chains for Apple
.