Apple's iPhone 15 Pro Expected To Have 8GB Of RAM, Is That Enough?
Apple's upcoming
Wonderlust event
is now just days away, which means we'll soon have official details on the iPhone 15 series. As is typically the case, leaks and rumors are in full force leading up the event. Same goes for the inevitable barrage of predictions by analysts. A new report by the folks at TrendForce falls into that latter category and purportedly outlines what specifications every iPhone 15 model will bring to the table.
One supposed specification that stands out is a bump in RAM on the
iPhone 15 Pro
and iPhone 15 Pro Max. According to the report, both models will come with 8GB of LPDDR5 RAM, compared to 6GB of RAM on the iPhone 14 Pro and iPhone 14 Pro Max. Both models will also offer 128GB, 256GB, 512GB, and 1TB storage options.
More RAM is definitely welcome, though Apple is still skimping compared to the competition. For example,
Samsung's Galaxy S23 Ultra
serves up to 12GB of RAM (along with up to 1TB of storage). Other premium-tier Android phones also blow past the 8GB threshold, such as the Pixel 7 Pro (up to 12GB of RAM), Nothing Phone 2 (up to 12GB of RAM), and OnePlus 11 (up to 16GB of RAM), to name a few examples.
Historically, Apple has been able to offer impressive performance on its iPhone devices without leading (or engaging in) a specs war with the top Android models. So don't be surprised if the iPhone 15 series—and especially the Pro/Ultra models—carry on that tradition.
We'll have to wait and see how that applies to multitasking, which can be heavily dependent on RAM. Where insufficient RAM really becomes bothersome is when switching between apps and having them completely reload. It's not so much the time it takes for an app to reload. Instead, the frustration lies in losing progress in an app, where applicable, like starting over with a shuffled playlist. First world problem, we know.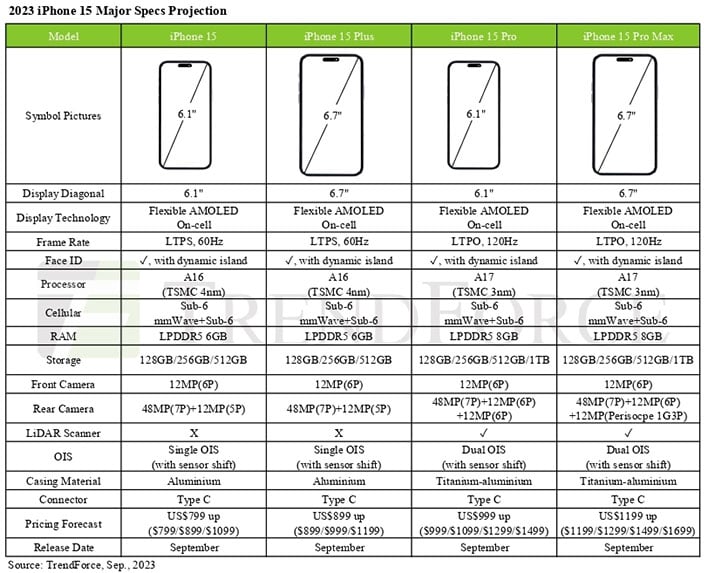 RAM aside, the iPhone 15 series looks promising from a high level overview. TrendForce agrees and is particularly bullish on the Pro models.
"The Pro series, armed with smoother production cycles and the Pro Max's exclusive periscope lens, is poised to be a consumer magnet and potentially propel the Pro series to constitute over 60% of Apple's new device production,"
TrendForce states
.
At the same time, the market research firm anticipates that the iPhone 15 Pro Max will come with a $100 higher starting price ($1,199) compared to the iPhone 14 Pro Max, to reflect increased production costs largely associated with the periscope lens.
We'll find out soon if TrendForce's predictions prove accurate—Apple's iPhone 15 event begins at 10:00am PT (1:00pm ET) next Tuesday, September 12.