AMD's 4th Gen EPYC Embedded CPUs Flex Up To 96 Cores Of Energy Efficient Muscle
AMD announced its EPYC Embedded 9004 Series of processors for embedded systems this morning at Embedded World 2023. These 4th Gen EPYC Embedded processors are based on the same 5nm
Zen 4
architecture as the
mainstream "Genoa" platform
, which affords excellent performance and scalability. AMD is targeting networking, security, storage, and industrial systems applications with this segment.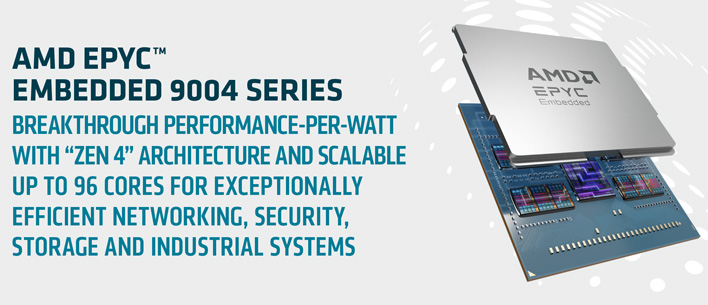 The Embedded 9004 series consists of 10 models that can span from 16 cores per socket at the low end, up to 96 cores at the very top. In a dual socket system, that amounts to a maximum potential of 192 cores and 384 threads. This does bring correspondingly high TDP with it, ranging from 200 watts to 400 watts per socket.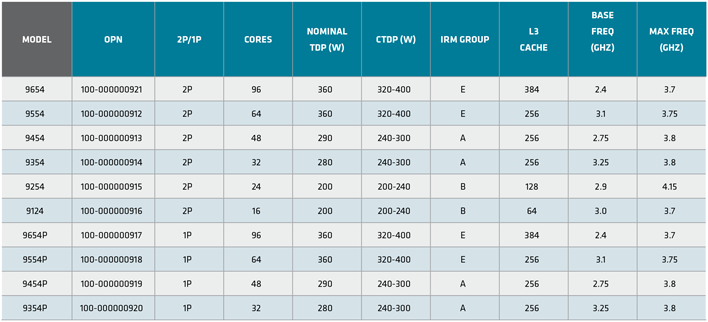 We expect these to retain the excellent performance characteristics of their mainstream EPYC 9004 Series brethren. The new EPYC Embedded 9004 SKUs largely mirror the mainstream EPYC offerings. Like Genoa, there are -P variants, which are restricted to single-socket configurations but can shave a little cost in exchange. We can't say how much, though, as
AMD
has not revealed pricing at this time, but the mainstream -P EPYC parts can reduce pricing by as much as a couple thousand dollars per chip.
As an
embedded solution
, these processors are built to suit some unique needs and constraints. Embedded devices tend to have very long lifecycles, so AMD has pledged "up to 7-year planned availability" to ensure parts are available for long term support.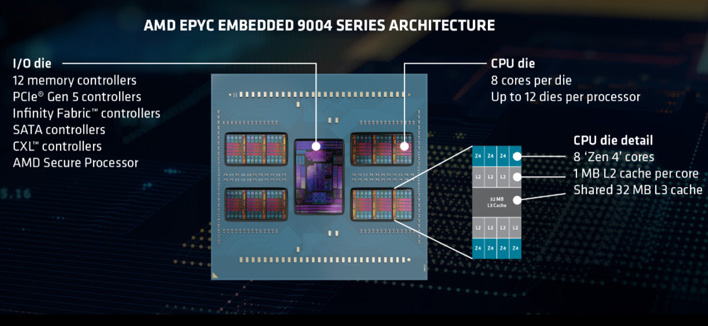 "Supporting enterprise-grade reliability, AMD EPYC Embedded 9004 Series processors are targeted for heavy workload, 'always-on' embedded systems requiring exceptional compute performance and I/O agility in a power-optimized profile," said Rajneesh Gaur, corporate vice president and general manager, Embedded Solutions Group, AMD. "With the launch of the EPYC Embedded 9004 Series processors, we're bringing the power of data center-level computing to embedded networking, security, storage and industrial applications."
In addition, these have a few other unique, embedded-specific benefits to aid reliability and better serve their intended applications. These include non-transparent bridging (NTB), non-volatile dual in-line memory modules (
NVDIMM
), and dual serial peripheral interfaces. NTB allows two redundant CPUs to access each other's data via the PCIe bus. NVDIMM is a hybrid memory solution that pairs non-volatile flash memory to volatile DRAM to help a system retain data in the event of a power failure. Dual SPI allows two off-chip ROMs to be supported for secure boot.

All three technologies greatly improve the product's resiliency and longevity. Embedded systems can be deployed to a wide range of environments, often in harsh conditions. These systems typically do not have the benefit of a technician on standby, as a server in a datacenter would.
"
Siemens
selected the AMD EPYC Embedded 9004 Series devices for our new high-performance, data center-class server because the processors reliably deliver performance and power efficiency while being able to operate seamlessly in extreme temperatures, as well as in settings with vibration or electromagnetic interference," said Thibault de Assi, head of business line industrial computing, Siemens. "With AMD leadership in the data center, we have been able to leverage its exceptional expertise for our industrial-grade products, where performance and efficiency are paramount. The new processors will open new opportunities for the industrial market."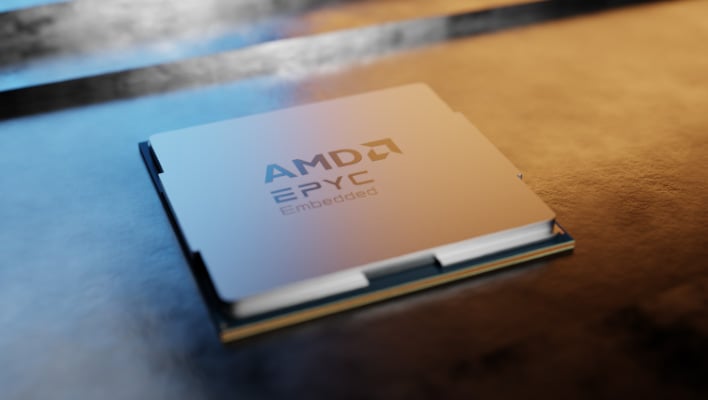 AMD says
these new embedded processors are sampling now with evaluation kits providing a reference board, documentation, and development tool kit to qualified customers. Production shipments are expected to arrive in April 2023.