AMD Exec Showcases 16GB Radeon Pricing Starting At Just $499
Shots fired! In a Twitter post, AMD's Senior Director of Marketing for Gaming, Sasa Marinkovic, continued a salvo against NVIDIA over the bang-for-your-buck proposition of each company's current and previous-generation graphics cards, and specifically in regards to how much video memory (otherwise known as VRAM) buyers get for their money.
The timing of the tweet is no coincidence—it comes just a couple weeks after NVIDIA added the
GeForce RTX 4070
to its Ada Lovelace stack. That card starts at $499 and comes with 12GB of GDDR6X memory linked to a 192-bit bus, for 504GB/s of memory bandwidth. It's a solid card for sure, but AMD is once again suggesting that NVIDIA skimped on memory.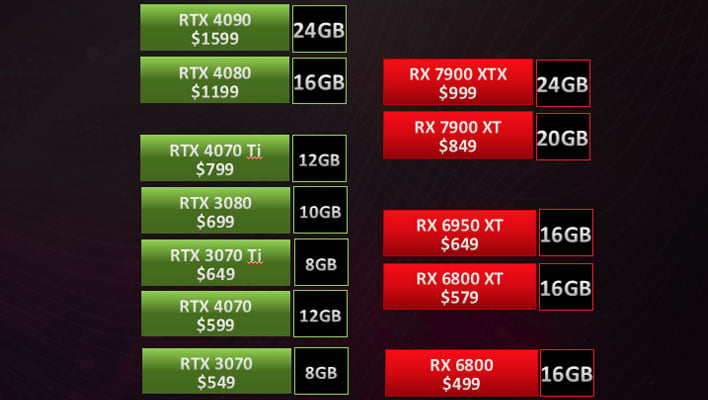 Source: AMD (via Sasa Marinkovic)
"Our AMD Radeon 16GB gaming experience starts at $499," Marinkovic tweeted.

This is the second shot in two weeks aimed at NVIDIA. Earlier this month, AMD was a bit more
coy in dissing its competitor
with a pair of slides showcasing how more VRAM can benefit certain games, including
Resident Evil 4
,
The Last of Us Part 1
, and
Hogwarts Legacy
.
Those slides showed how much VRAM each of those games chew through when playing at 4K, both in regular rasterized mode and with ray tracing turned on. The general takeaway is that more memory benefits higher resolution gaming and advanced features.

This time around, AMD (via Marinkovic) made
direct comparisons
between Radeon and GeForce options. For players who want at least 16GB of VRAM, the Radeon RX 6800 starts at $499, versus the GeForce RTX 4080 starting at $1,199.
Obviously, that's a bit of an apples and orange comparison—the Radeon RX 6800 is based on AMD's previous-generation RDNA 2 graphics architecture whereas the GeForce RTX 4080 is a faster card based on NVIDIA's newest Ada Lovelace tech.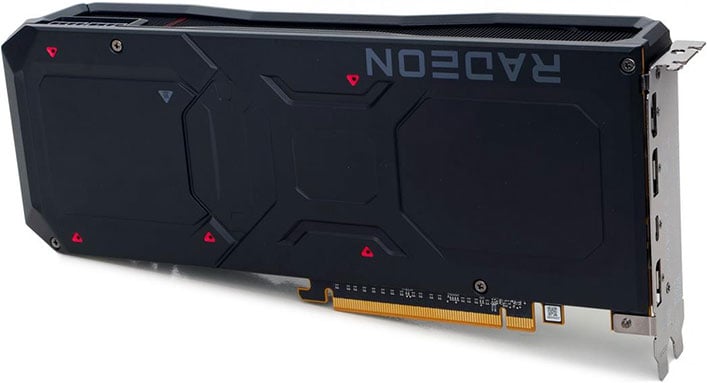 AMD Radeon RX 7900 XT with 20GB of GDDR6
Even so, as you move up the Radeon chain you eventually come to the Radeon RX 7900 XT with 20GB starting at $849 and the Radeon RX 7900 XTX with 24GB starting at $999. Simply put, AMD's Radeon cards typically offer more VRAM for the money.
Of course, the amount of memory alone doesn't determine a graphics card's entire worth. What this reminds us of is the smartphone landscape where Apple's iPhone models consistently come with less RAM versus many Android counterparts. For example, the
iPhone 14 Pro Max
pairs 6GB of RAM with up to 1TB of storage, whereas
Samsung's Galaxy S23 Ultra
is available with up to 12GB of RAM (and also 1TB of storage).
That matters in some situations (like having multiple apps open and switching between them), and in other cases, not so much. And so it goes with graphics cards, as well.
In any event, we've highlighted some tantalizing
GPU deals
over the past couple of weeks, such as Powercolor's Hellhound
Radeon RX 7900 XT for $799.99 at Amazon
and the ASRock
Radeon RX 7900 XTX selling for $959.99
. And in Intel land, you can pick up an Acer Predator BiFrost
Arc A770 with 16GB of VRAM for $339.99 on Amazon
. That's a dynamite value proposition for 1080p gaming and one of the cheapest cards to offer 16GB.