What AMD Said About Zen 5 Will Have You Excited For Its Next-Gen CPUs
Believe it or not, it's already been over a year since AMD released its desktop
Ryzen 7000 series
processors based on Zen 4, along with its socket AM5 platform that it plans to support through at least 2026 (AMD initially said through 2025, then later
extended its commitment
). What that all means is it's not too early to talk about Zen 5. Heck, even AMD is prone to referencing its next-gen CPUs on occasion, as it did during a recent earnings call.
Naturally, AMD is keeping fine grain details under lock and key. However, AMD CEO Dr. Lisa Su made a statement in reference to
Turin
, the codename for AMD's next-generation (5th Gen) EPYC server processors based on Zen 5, that should come as welcome news.
"I am very pleased with the momentum we have built for our EPYC CPU portfolio. We are building on this momentum with our next-gen Turin server processors based on our new Zen 5 core that delivers significant performance and efficiency gains. Turin is in the labs of our top customers and partners now, and customer feedback has been very strong and we're on track to launch in 2024," Dr. Su stated.
Let's unpack this, shall we? Dr. Su's remarks exude confidence in AMD's Zen 5 architecture, which promise "significant" gains in both performance and efficiency. No duh, right? Sure—the expectation with new generation architectures is typically a combination of a performance uplift and better power efficiency than whatever is being replaced, which in this case is Zen 4.
However, you have to think that any remarks made during earnings calls are carefully curated beforehand, so to hear Dr. Su use the word "significant" is, well, rather significant. This is also interesting because Zen 5 is presumably sticking with a monolithic design (at least for the desktop CPUs), as opposed to adopting a hybrid makeup akin to Intel's Raptor Lake/Raptor Lake Refresh and Alder Lake architectures, which Intel feels is key to eventually regaining process leadership.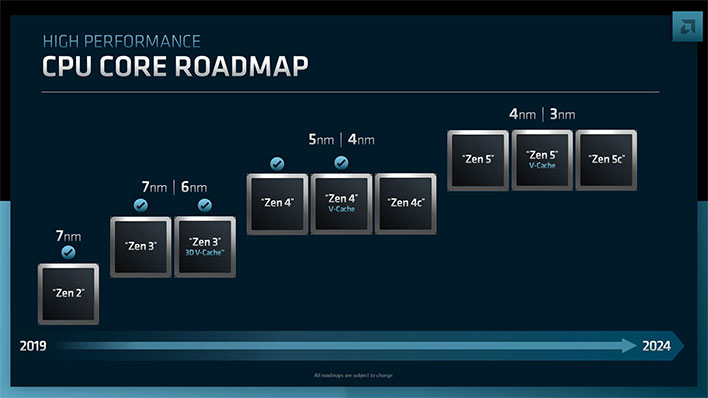 The comment is in line with leaks and rumors suggesting that Zen 5 could be the biggest leap in performance since AMD introduced its first-gen Zen architecture. To that end, Jim Keller, the father of Zen himself and now the CEO of Tenstorrent, posted a slide earlier this year that suggested Zen 5 will offer a
massive IPC uplift
when it arrives.
Speaking of Zen 5's arrival,
Dr. Su's statement
is another confirmation that Zen 5 is still on track for a 2024 launch. Not that we ever thought the release timing was in jeopardy, but it's still nice to hear. It also means that next year should provide plenty of intrigue, with rival Intel on track to launch Arrow Lake in 2024 as well.
Dr. Su didn't say much else about Zen 5, though we already know it will be built on a 4-nanometer manufacturing process (undoubtedly by TSMC) and like Zen 4, there will be versions with 3D V-cache tacked on at some point. We also know it will feature integrated AI and machine learning optimizations, and sport a re-pipelined front end, as was previously divulged. Stay tuned, 2024 is going to be interesting in the CPU space.