AMD Ryzen 7000 Non-X Zen 4 CPU Prices Plummet Below MSRP In China, Will US Be Next?
Now is a great time to build a PC from scratch or to upgrade an existing one to the latest generation silicon from AMD and Intel. Both offer competitive solutions for a wide range of tasks—gaming, content creation, productivity, general purpose chores, and so forth. As it pertains to AMD, it's
Zen 4 processors
have been on the market for several months now, and prices on some models have dropped below MSRP in China. This raises the question if we can expect the same thing to happen in the US and other territories.
One thing to note if you're looking to build around or upgrade to a Zen 4 processor is that these chips require a new motherboard. AMD introduced its socket AM5 for its Ryzen 7000 series desktop CPUs. So, if you're coming from a Ryzen 5000 series setup, that socket AM4 motherboard in your PC is not compatible. Additionally, Zen 4 exclusively runs with
DDR5 memory
.
Unlike with previous generation releases, upgrading to Zen 4 means factoring in the cost of a new motherboard and RAM to go along with it, rather than recycling those parts from your existing build. As such, some users might be holding off for price drops before making the jump.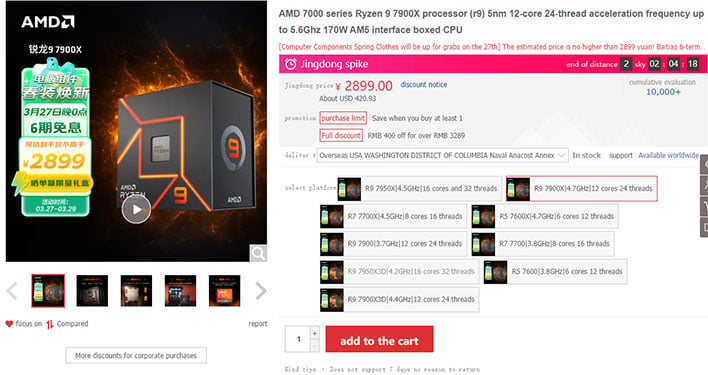 Source: JD.com
Well, that's beginning to happen in China. As spotted by
MyDrivers
, AMD's non-X chips within the Ryzen 7000 series are listed below MSRP at JD.com. They include the Ryzen 9 7900 selling for 2549 Chinese yuan (~$370 in US currency), the Ryzen 7 7700 for 1,899 Chinese yuan (~$276), and the Ryzen 5 7600 for 1449 Chinese yuan (~$210).
Meanwhile, the MSRPs in US currency for those chips are $429 for the Ryzen 9 7900, $329 for the Ryzen 7 7700, and $229 for the Ryzen 5 7600. Based on those values, the non-X processors are selling for between 8 and 14 percent blow list price.
Here's how pricing looks in the US...
In other words, all three SKUs are selling at MSRP, though they do come with a download code for Star Wars Jedi: Survivor.
Pricing is pretty much the same at most other retailers in the US. That is, unless you're lucky enough to live near a Micro Center. In that case, you can score the Ryzen 9 7900 for $399.99 ($30 below MSRP), the Ryzen 7 7700 for $319.99 ($10 below MSRP), and the Ryzen 5 7600 for $219.99 ($10 below MSRP), all of which are only available for in-store pickup. Those also qualify for the game bundle, but with only 25 locations spread across 17 states, shopping at Micro Center is not a viable option for everyone.
Meanwhile, some of AMD's Ryzen 7000X series CPUs are better deals. Here's a look at pricing...

It's actually cheaper to go with the Ryzen 9 7900X than the Ryzen 9 7900, while pricing is nearly identical on the Ryzen 7 7700X and Ryzen 7 7700. Note that core and thread counts are the same between X and non-X SKUs, and same goes for the cache allotment. However, X models sport faster clocks, enabled by higher TDPs.
In terms of value, you're better off with a 7000X SKU rather than a 7000 non-X model, at least for now. We have no doubt that prices will drop in time, though, which is good news for builders who are willing to sacrifice clock speeds for a lower TDP.