AMD Ryzen 7 4700U Zen 2 APU Delivers Strong Performance In Lenovo Laptop Benchmark Leak
AMD is
firing on cylinders these days
-- at least with respect to processors -- and the latest example of that is with its newest Renoir APUs built on 7nm
Zen 2
architecture. AMD announced these APUs earlier this month at CES 2020 as the
Ryzen 4000 series
, and a number of OEM partners announced new laptops featuring the chips.
Today, we're getting a glimpse at what kind of performance that we can expect out of laptops equipped with these APUs when they arrive this quarter. Thanks to a Geekbench listing for an unnamed Lenovo laptop, we're getting seeing some strong performance from the Ryzen 7 4700U.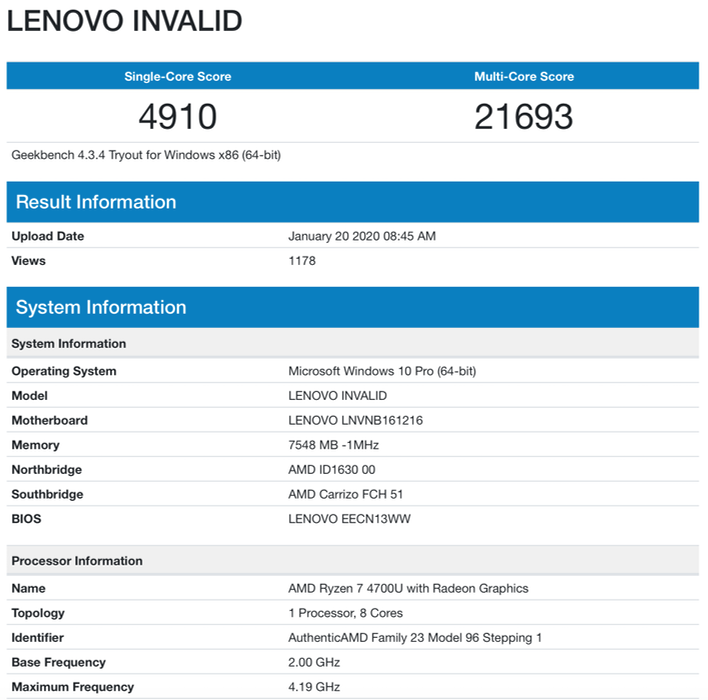 We see the Ryzen 7 4700U here putting up a single-core score of 4910, and a multi-core score of 21693. By themselves, those numbers don't really tell us much, but we can compare it to some laptops that we've tested in the past. Despite the fact that it is not SMT-enabled, the Ryzen 7 4700U ranks near the top of list (compared to Intel's Core i7 offerings) even in the multi-threaded benchmark. It still trails in the single-threaded test, but it is a much better showing that we've seen with previous Zen APUs.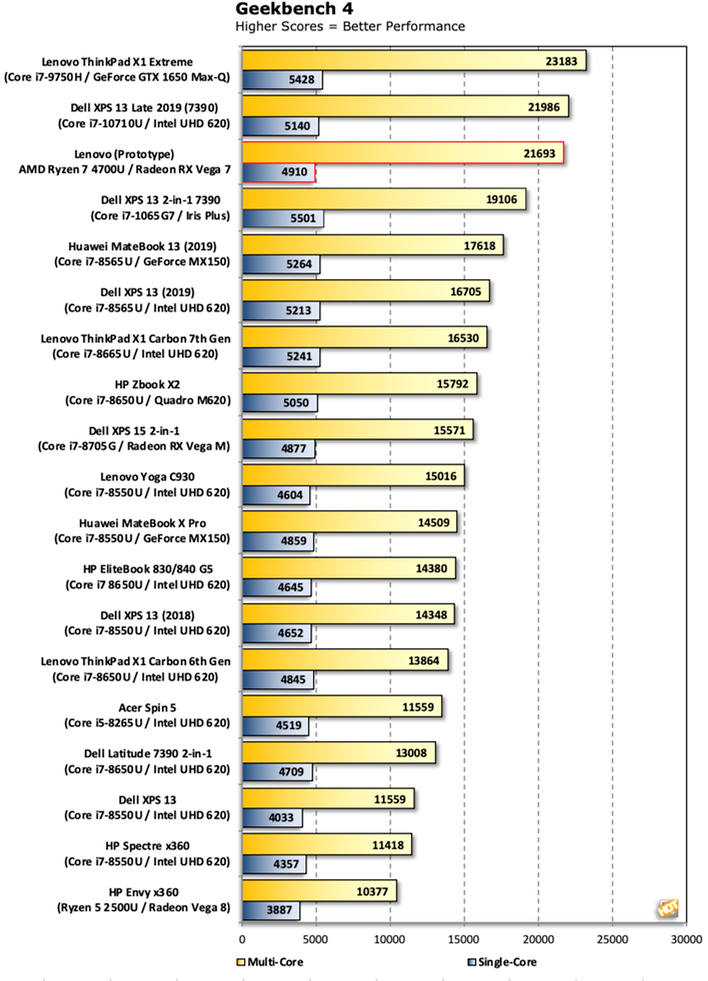 The Ryzen 7 4700U is an 8-core processor with SMT disabled, meaning that it can "only" execute 8 threads. It has a base clock of 2GHz, can boost to 4.1GHz, and has a TDP of 15 watts. In addition, its beefier Radeon Vega graphics engine has 7 cores.
Even though this is just one set of benchmarks for the Ryzen 7 4700U, things are looking up for AMD. Intel has maintained a commanding grip on the notebook market with its Core processors, while AMD has not always been up to the challenge with respect to performance and power consumption. However, these new Ryzen 4000 APUs seem to be turning the tide, and AMD's string of OEM wins shows that things are a lot more promising this time around.