AMD Radeon RX 6300 That Was Never Announced Makes A Surprise Appearance
AMD hasn't officially announced a Radeon RX 6300 desktop graphics card, but an example appears to have turned up on a Chinese second-user marketplace. If genuine, and we have seen some evidence of this product's existence before, this will become the lowest tier Radeon 6000 series desktop graphics card available. That honor was previously held by the
AMD Radeon RX 6400
which had a very low-key launch nearly a year ago.
When AMD launched the Radeon RX 6500 XT for desktops, it also expanded the RX 6000M series for laptops to include the low-power
Radeon RX 6500M and RX 6300M
. That was in January 2022. Now we have signs that the desktop RX 6300 is here as a low-power discrete graphics option for those who need such components.
The top image comes from the Goofish marketplace in China, via
HXL on Twitter
. You can see the graphics card pictured uses a low-profile bracket with two video output ports, as well as a very rudimentary looking active cooler and heatsink. It won't really need much in the way of cooling, as you will see from the specs, below.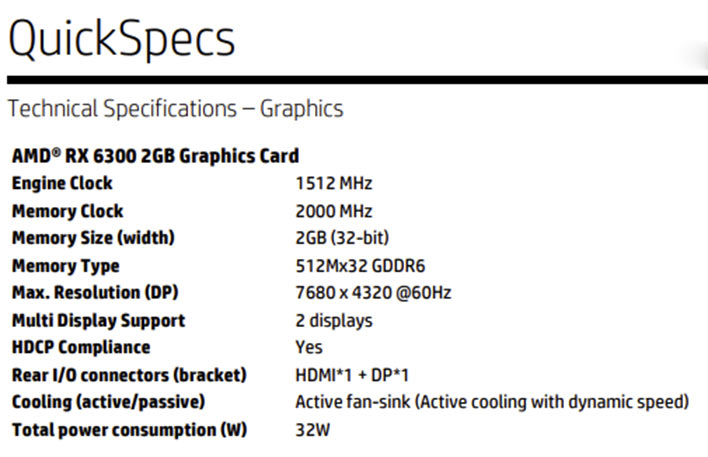 The AMD Radeon RX 6300 was released earlier this month, according to
Komachi
. With the simple, unbranded design of the used model in the main picture, it seems pretty certain it was plucked out of an HP desktop build, replaced with something more powerful, and sold on — perhaps hoping to get a good price for what is currently a rarity / curiosity.
Regular readers, and anyone that has ever checked the specs of the Radeon RX 6500 XT and RX 6400 desktop graphics cards, won't be all that surprised by the RX 6300's meager specifications. One of the 'highlights' of the design is its Navi 24 GPU (same as the RX 6500 XT and RX 6400) which has just 12 out of 16 possible compute units (CUs) active for 768 streaming processors (SPs). This number of SPs is the same as the RX 6400, but the GPU in the RX 6300 runs quite a bit slower than in the RX 6400, with a game clock of 1,512MHz vs 2,039MHz. This change will have helped cut the TDP from 53W to 32W.
One of the most brutal cuts to the RX 6300 is seen in its memory subsystem. It only has 2GB of GDDR6 (vs 4GB for the RX 6400). The memory bus is also halved, to just 32-bits. On a positive note, the GDDR6 uses the same 16GB/s ICs as the RX 6400.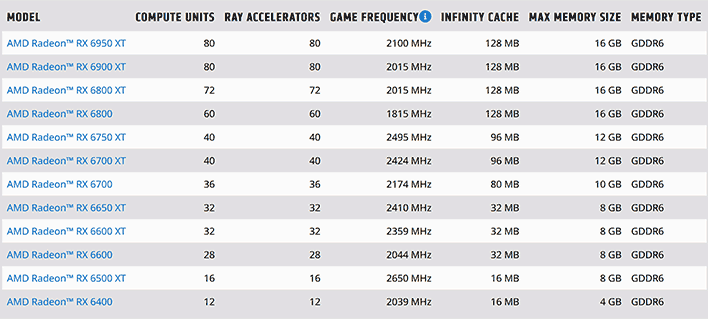 How much do you have to pay for the Radeon RX 6300? The Chinese second-hand listing asks for RMB 399, which is about $58 at today's exchange rate. As PC enthusiasts, we would be tempted to look for something with more performance on the expansive and diverse used market. It is probably fair to say this RX 6300 has been cut back too far for a gaming card, and the Navi 24 GPU's lack of
hardware accelerated video encoding
makes it unattractive for SFF and HTPCs where it might otherwise have been welcomed.