AMD EPYC 7643 Zen 3 Milan 48-Core CPU Benchmarked With Massive Multi-Core Performance
AMD's Zen 3-based EPYC CPUs might be the worst-kept secret in all of technology. Details about these CPUs have been leaking onto the internet via Twitter since late last year. More recently, the 32-core EPYC 7543 made itself known via the Geekbench results database. AMD CEO Lisa Su all but confirmed rumors about 32-core CPUs at
CES 2021
, but stopped short of saying anything about bigger chips. Now, one of those bigger processors has leaked online thanks to Geekbench's online repository.
This result comes from an EPYC 7643 system running Geekbench 4 (which has a different score scaling than the current version 5) on Linux. This particular monster of a CPU will apparently have 48 cores as a larger part of AMD's Milan family of CPUs. The base frequency as reported in Geekbench as a modest 2.3 GHz and a whopping 256 MB of L3 cache in eight 32 MB chunks. Like all Zen 3 CPUs, there's also 32 kB of L1 cache and 512 kB of L2 cache per core. Symmetric multi-threading is also on tap, for a total of 96 hardware threads. These figures being a multiple of eight implies that there are eight Zen 3 chiplets with six cores enabled a piece. AMD showed off its smaller 32-core sibling at CES, where EPYC
put on quite a show
.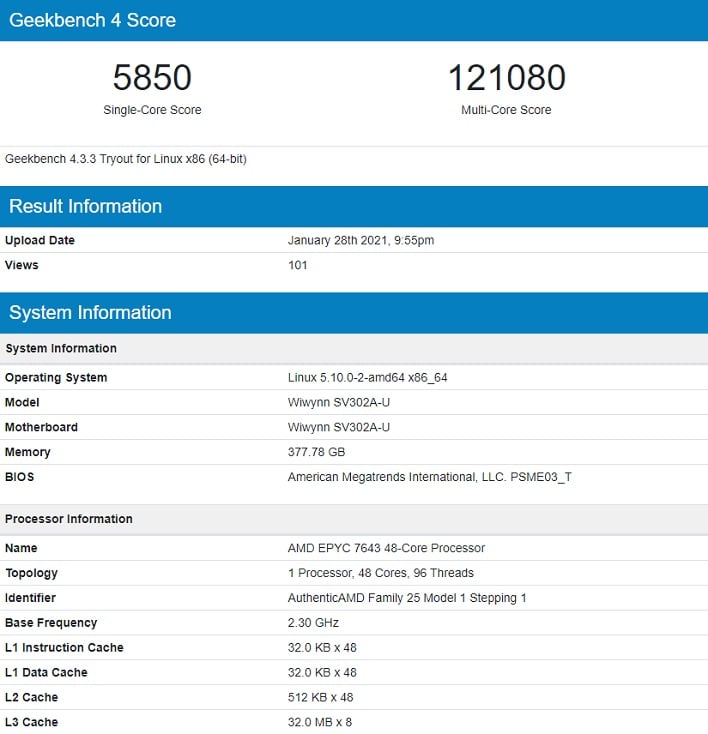 The CPU had decent single-threaded performance at 5,800, but tallied up an incredible 121,000 on the multi-threaded score. That's nearly a 22x multiplier on multi-threaded performance, something that never scales quite linearly thanks to what has to be a pretty big drop-off in maximum clock speeds thanks to all the power 48 cores needs to do its work. For reference, a
Ryzen 7 5800X
scores around 6,500 for single-threaded and 27,500 for multi-threaded. The issue is that this system was running Linux and our quick comparison was on Windows, so these figures are not to be taken as the final word.
CPU base clocks and cache configurations are not all we can learn from Geekbench, however, if we know a simple trick about the result database. When viewing a Geekbench 4 result like the
this CPU's entry
, we can add ".gb4" to the URL and see a JSON record with all the details. Buried in this data, we can find that over the course of the run, this processor's peak speed is listed just over 3.4 GHz with a maximum of 3,442 MHz and a minimum of 3,426 MHz.
We've seen so much of Milan, but we don't currently have a date for when these processors will be completely unveiled or begin shipping. They're expected to launch later this year, however. Then we'll finally be able to see what these processors can do in the real world.