AMD Adds New 3rd Gen EPYC Milan CPUs And Extends Availability For Mainstream Value
Although it's been roughly a year since AMD launched its
4th Generation EPYC Genoa CPUs
, the company is looking back at its 3rd Generation EPYC Milan chips and adding six new models to the lineup. With a focus on value, these new Milan variants seemingly indicate that 4th Generation EPYC Genoa, Bergamo, and Siena CPUs are just too high-end to replace Milan.

The main thing this new lineup offers is bang for buck, as seen with the prices. For example, the 16-core Milan chips cost about $600, against the $1,083 that the older EPYC 7313 went for; the other CPUs are similarly cheap. However, all of these CPUs come with lower clock speeds than the original Milan chips, and the 16-core models also have half the L3 cache of other 16-core Milan CPUs. So, it's not exactly a free lunch, but these new models still likely offer better value thanks to having such a low price.
Additionally, the lineup also features new core configurations for the main Milan lineup: 8 cores, 48 cores, and 56 cores. The two 8-core models help extend Milan further to the low-end, while the 48-core and 56-core chips fill in the gap between the 32-core and 64-core CPUs. Technically, AMD already had an 8-core EPYC Milan CPU, but it's a special variant that has eight CCDs and all of the L3 cache enabled, and it was priced like a high-end CPU.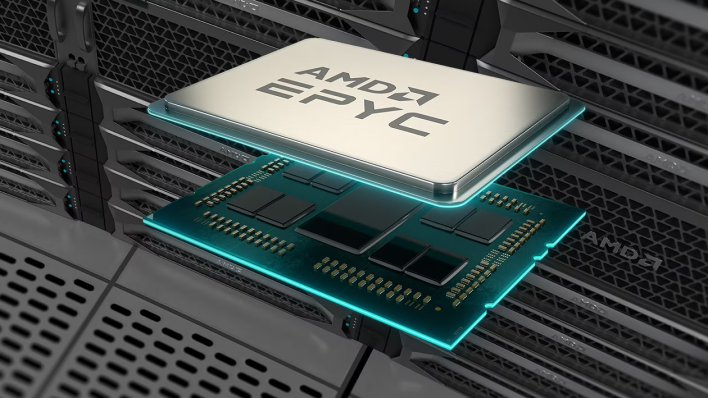 Although the
official lineup
only shows six CPUs, most of them being single-socket P models, AMD's official website includes some non-P SKUs as well: the 7303, 7643, and 7663 are all there. It's not clear why these CPUs are on AMD's website but not in the official announcement, though perhaps that's because the target audience for the announcement are lower-end datacenters, which are unlikely to want a high-end multi-socket solution.
That Milan still has some life left in it demonstrates that 4th Generation EPYC CPUs may not be all that effective for the mainstream and low-end. They're built on TSMC's 5nm node, use DDR5 memory, and require new motherboards, which significantly boosts the price beyond what you'd expect for a generational upgrade. AMD even launched the lower-end
4th Generation EPYC Siena
in September, but it seems Milan is still needed to satisfy the mainstream and low-end.