Amazon Starts Posting Warnings On Frequently Returned Items And It's About Time
Interpreting
Amazon
listings is as much art as science, but the e-commerce giant is adding an unmistakable signal you should take into account. Amazon is placing a warning label to products that have a high return rate, giving you a hint there may be something wrong or misleading about it. This could mean less hassle and disappointment for customers, while Amazon gets to save on logistics.
According to a report from
The Information
, the warning labels are currently rare and don't show up consistently, but they've appeared on several products with high review ratings. This listing for a
Pro-Ject turntable
is one of those spotted with the "frequently returned" banner, but we're not seeing the warning consistently right now. It's possible Amazon is still testing the feature and has not fully rolled the feature out. "We're currently showing return rate information on some product detail pages to help our customers make more informed purchase decisions," an Amazon spokesperson confirmed to
The Information
.
Often, Amazon shoppers have to read the tea leaves to determine if a listing is trustworthy. Reviews can help, but many sellers buy fake reviews. They may also inflate the list price so they can show a large discount or claim features the product doesn't actually have. And then there are listings
that are outright scams
, offering counterfeit goods or products produced so cheaply no one would buy them if they had the chance to inspect them in person. A visible warning label would help consumers know when they're looking at such a product.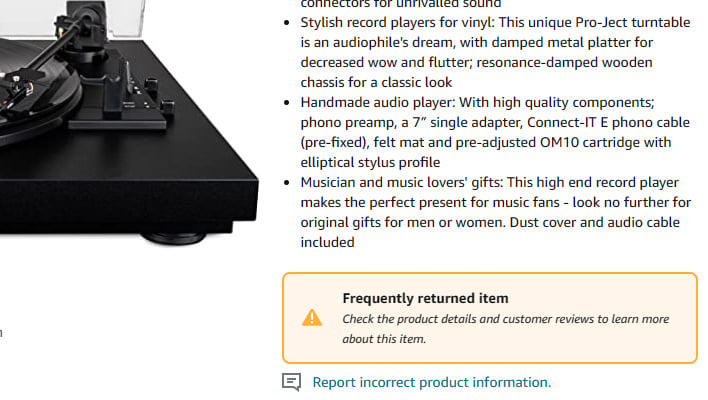 This move seems like a good thing for everyone—except for people who want to sell junk online. Amazon lets customers return most items for 30 days after purchase, and while returns are usually offered at no cost to the buyer, it's still a hassle. Better to just not buy a crummy product in the first place, right? Amazon foots the bill for returning items, and it takes staff to inspect the returns. So, it has a strong interest in discouraging people from buying products they are likely to return. There are also environmental costs associated with transporting products to someone's doorstep just for them to realize they've been had before shipping it right back.
We don't know when Amazon will roll out the "frequently returned" label widely, but it can't come soon enough. Until then, you'll just have to be vigilant.