Sony PS5 Developer Consoles Spied On Camera Confirming Spaceship Styling
We've seen patent drawings of [the dev version of]
Sony's upcoming PlayStation 5
(PS5) along with a slew of renders based on those drawings. Today, however, we're getting our best look yet at the dev boxes that have been in the hands of game studios around the globe. Not surprisingly, the devices that we see in this single image look like a dead ringer for the previous leaks.
The image also confirms the weird V-shaped at the top of the console that is infused with what appears to be cooling vents. Tom Warren, a writer for The Verge, posted to Twitter confirming that the image is legit while at the same time explaining the reasoning behind the peculiar design of the dev boxes.
PS5 anyone? pic.twitter.com/cBggZTIty4

— The Drunk Cat™ (@Alcoholikaust) November 30, 2019
"The reason it's large and v-shaped is to make them more easily stackable for devs who are running multiple stress tests," wrote Warren. "The cooling is optimized to push air out of the sides and center"
We should note, however, that the design of the PS5 dev box might not translate completely over to the final product. Sony and Microsoft often produce dev hardware that looks wildly different from what actually ships to customers. We have no reason to believe at this time that Sony will switch up this practice for the PS5.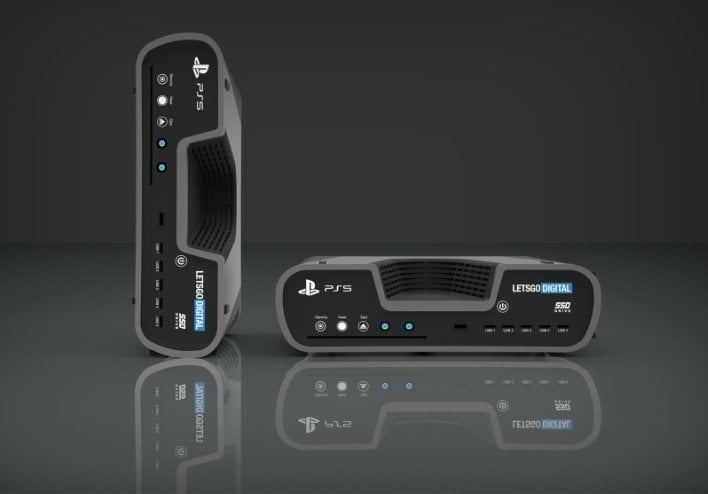 Whatever the PS5 ends up looking like, it will have some incredibly powerful hardware lurking under the skin. Sony has already confirmed that the PS5 will be powered by a 7nm Zen 2-based AMD Ryzen 3000 processor (8 cores, 16 threads) along with a Radeon Navi-based GPU with real-time ray tracing support added in. Sony has also spec'd a super-fast SSD that will potentially be supplied by Samsung.
Almost as important as the console itself is the wireless controller that comes with it. The PS5's DualShock 5 controller tosses aside rumble for haptic feedback and ditches the old school microUSB charging port in favor of USB-C. Also included are adaptive triggers and allegedly support for a voice assistant.
According to a recent leak, the PS5 will launch on November 20th, 2020 with a price tag of $499.