Alarming GTA Online Exploit Enables Cheaters To Corrupt Accounts But A Fix Is Inbound
Rockstar Games is a studio that invokes feelings of enjoyment and feelings of ire, the latter primarily for opponents of the studio's works, often parents. That's thanks to the studio's reputation as the creator and distributor of games that often contain sexuality, violence, and swearing. That has drawn them some legal attention over the years, though the one lawyer who was usually on the crusade,
Jack Thompson
, is now disbarred. The issue lately, though, is that the popular Online portion of
Grand Theft Auto 5
,
GTA Online
, has a very nasty exploit crop up that can allow for remote code execution (RCE).
The exploit can allow cheaters to remotely add, remove, and modify stats. It could also permanently corrupt the data on another player's account. Any of these issues, in turn, means that Rockstar's systems could permanently ban or delete an innocent player's account on GTA Online.
#GTAOnline PC High Alert⚠️

New extreme exploits have appeared allowing cheaters to remotely add/remove/modify your stats and permanently corrupt your account aka ban/delete.

Avoid playing without a firewall rule or playing at all!🚨

Thanks to @HarryGotTaken for notifying. pic.twitter.com/tyh4tCInML

— Tez2 (@TezFunz2) January 20, 2023
Just modifying the games files is bad enough, but some say that this RCE could potentially allow for code execution at the system level. The issue is has created so much concern that the current advisement by the community for PC gamers is to either ensure a certain firewall rule is in place, or just not play at all. We'd opt for the later. If, for some reason, your game data does get corrupted, though, there is a fix. Find the "Rockstar Games" folder on your PC's Documents folder and delete it. The files should refresh upon reloading the game.
Rockstar was made aware, rather rapidly, thanks to the
subreddit for the game
and are working on a fix. This has prompted the Rockstar Support Twitter to make a post indicating a Title Update is coming to GTA Online. The company has even posted a
job listing on LinkedIn
for a Cheat Software Analyst to add to its staff.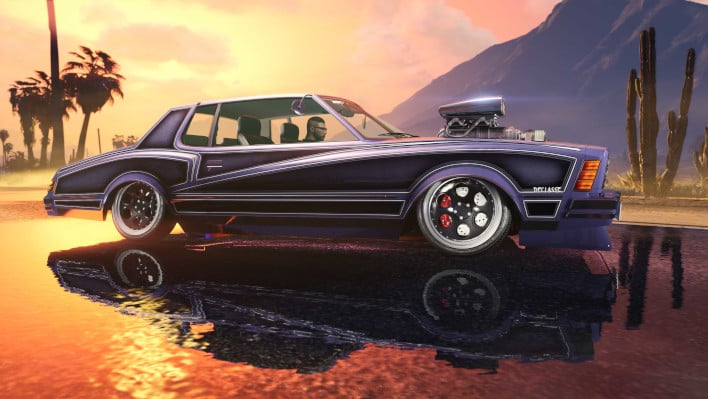 Image of a vehicle from Grand Theft Auto Online
As the Tweet says, if you feel you have been affected by cheaters, make sure you
contact Rockstar Support
. We're hoping this doesn't take too much of Rockstar's attention from from
Grand Theft Auto 6
, because we're pretty excited for it with all the
leaks so far
. Still, an RCE exploit is a big concern, and resolving it should be of the highest priority.