8BitDo's First Mechanical Keyboards Are Retro Tributes To The Glorious NES With A Twist
It may seem like mechanical keyboards and the original Nintendo Entertainment System (NES) have nothing in common, but that's not actually true. The NES is a retro system from a bygone era, while mechanical decks hearken back to a time before squishy membrane keyboards became the unfortunate norm. Plus they're both delightfully geeky. So, they're not as strange bedfellows as one might assume, and certainly not to
8BitDo
, which is using the NES and Famicom as inspirations for its first mechanical keyboards.
One can't help but feel a tinge of nostalgia at the classic color schemes—shades of gray with red lettering permeate the N-Edition keyboard that draws inspiration from the original
NES
released in the US, while shades of brown and white with gold lettering make up the Fami-Edition that's designed after the Famicom released in Japan decades ago.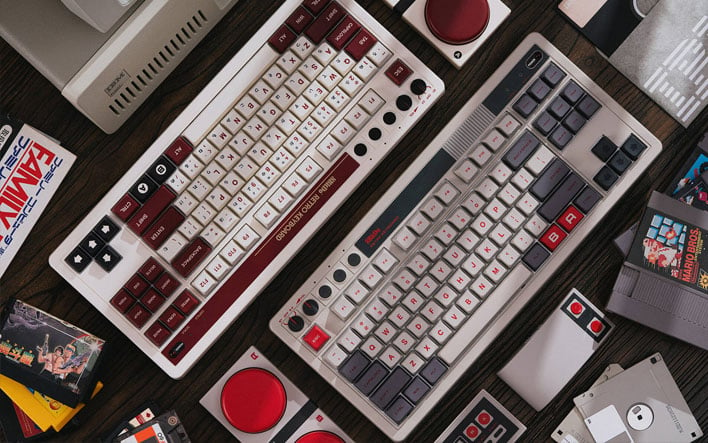 Both keyboards are built around Kailh's Box Switch V2 White key switches. Compared to the V1 iterations, the V2 version features extended gold-plated springs (19mm) for a faster rebound and better dust and water proofing to protect from rust and corrosion. These are also clicky switches, meaning they produce an audible click when pressed (think Cherry MX Blues for a rough point of reference).
These are compact tenkeyless (TKL) keyboards, meaning there's no dedicated number pad. They're also wireless with an included 2.4GHz dongle, or you can connect via Bluetooth. 8BitDo says users can expect 200 hours of battery life with a 4-hour charging time. And of course you can use it as a wired keyboard too.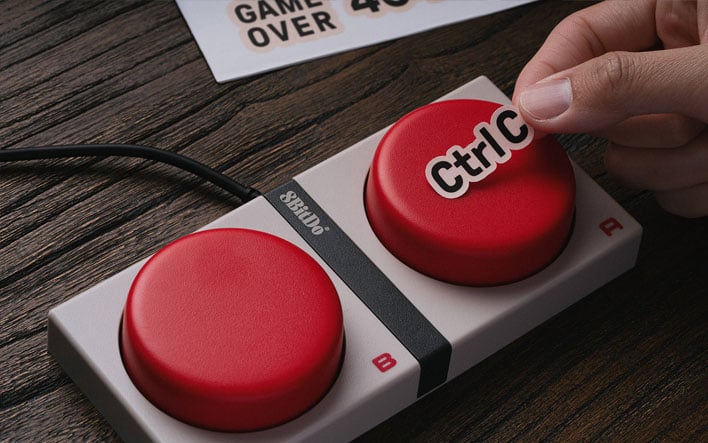 Outside of the color scheme, 8BitDo brings some unique retro flair to the mechanical keyboard part with a pair of giant red "Super Buttons" reminiscent of the A/B buttons on the NES and Famicon controllers. Aside from looking neat, these serve as programmable buttons that you map keys or macros to. There's actually support to connect four sets of Super Buttons for a total of eight programmable supersized buttons. Just one set is included, but you can buy more separately.

8BitDo also deserves kudos for opting to use PBT plastic with dye-sublimated legends and MDA-like height rather than cheaper ABT plastic. In doing so, it should take longer for the letting to wear off.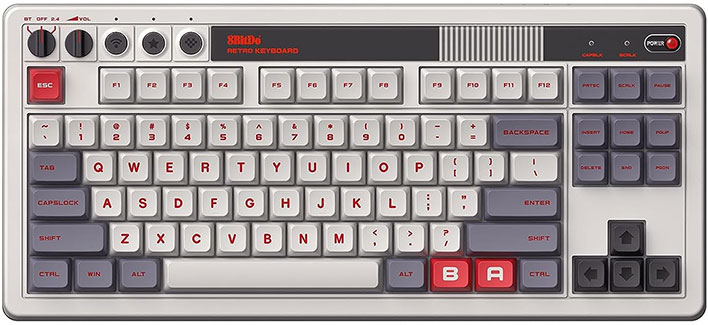 If this is your bag, you can preorder the 8BitDo
N-Edition
and/or
Fami-Edition
keyboards for $99.99 each on Amazon. They both release on September 20, 2023. Extra buttons are exclusively available at 8BitDo's own store for
$19.99 per set
.