YouTube Update Adds Higher Quality Videos And More Great Perks But Only If You Pay
Google is adding some nifty new and upgraded features to
YouTube
including an enhanced bitrate version of Full HD 1080p videos, though only paying customers will see them. In a blog post, Google detailed what its 80 million paying Premium subscribers can expect. There are five updates in all, and they mostly apply to mobile, though not exclusively.
In a numbered list, Google saved arguably the best update for last, that being better quality videos. Initially only users on
iOS
will see the change. However, Google plans to expand the enhanced bitrate to the web (i.e., desktop) as well.
"To provide an even higher video quality experience for our Premium members, in the coming weeks we'll be launching an enhanced bitrate version of 1080p HD video quality starting on iOS (and an experiment coming to Web soon too.) While all users will still have access to 1080p, this enhanced 1080p quality setting will look extra crisp and clear, especially for videos with lots of detail and motion," Google explains.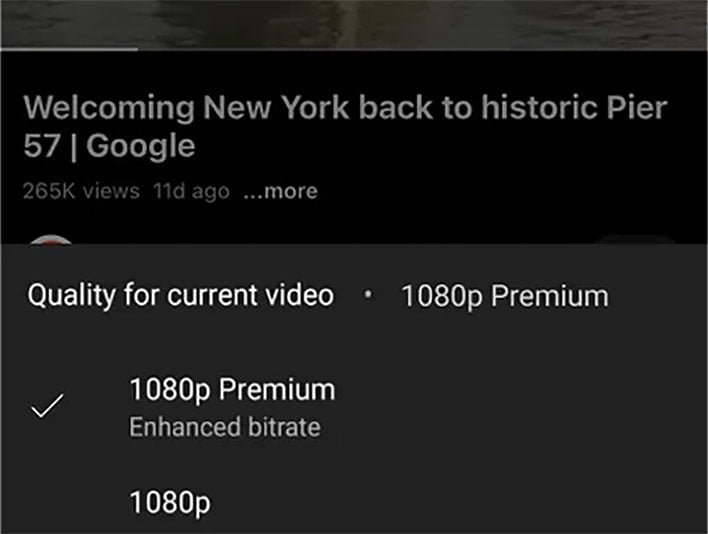 We'll have to wait and see what kind of difference it actually makes, though from Google's perspective, it will bring about an "even deeper visual quality" to a variety of videos, including sports and gaming.
Another upgrade headed to Premium subscribers is an expansion of queuing capabilities to phones and tablets. This is a feature that's already available on the web and is now headed to mobile, at least for paying users. In addition, Google is making it possible for Premium subscribers to watch video together on Android and iOS.
"Through Meet Live Sharing on Android devices, Premium members can host Google Meet sessions where all attendees, regardless of whether they are Premium or free users, can watch YouTube videos together. In the coming weeks, we're also rolling out this experience for FaceTime users on iOS via SharePlay," Google explains.
While non-paying users can join the viewing party, only Premium subscribers can actually set things up. So at least one person needs to pony up for the monthly fee.
The other two
YouTube feature updates
include the ability to jump back into videos across devices and pick up where you left off (now available on Android, iOS, and desktop), and 'Smart Downloads', a feature that automatically adds recommended videos to your library while connected via Wi-Fi so that you can watch them offline if you happen to lose your internet connection.
YouTube Premium costs $11.99 per month with a one-month free trial available to new subscribers. Other options include a discounted $119.99 annual plan for individuals, $6.99 per month plan for students, and a $22.99 per month family plan that lets users add up to five family members from within the same household.
Count yourself lucky if, like myself, you jumped on the introductory $7.99/month price for Google Play Music when it launched in 2013. While it could disappear at any minute, I'm still grandfathered into the launch price a decade later, with the original service having morphed into YouTube Premium, which includes YouTube Music Premium.