Intel Arc's XeSS Upscaling Gets Compared To NVIDIA DLSS With Surprising Results
Along with its Arc Alchemist GPUs, Intel is launching an AI-powered smart upscaler most similar in form to NVIDIA's DLSS. It's
known as XeSS
, and just like DLSS, it requires game integration. Even though the higher-end Arc cards are not yet
publicly available
,
Digital Foundry
was given early access to do one of its trademark pixel-peeping image quality comparisons, and the results look pretty good for Intel.
Not flawless, mind you—for one thing, the tests only covered one game, and that's Shadow of the Tomb Raider. Despite being showcased only in a single released game so far, XeSS seems to comport itself pretty well. As that site's Alex Battaglia points out, it's largely inferior to DLSS, but that method has had years of refinement. Meanwhile, XeSS isn't even technically out yet.
In some ways, XeSS is better than AMD's second attempt, too. FSR 2.0 struggled with "disocclusion" artifacts when rapidly moving objects revealed previously unseen parts of the scene. XeSS doesn't suffer any of these problems, at least in Alex's testing. However, it does still have some noticeable image quality problems.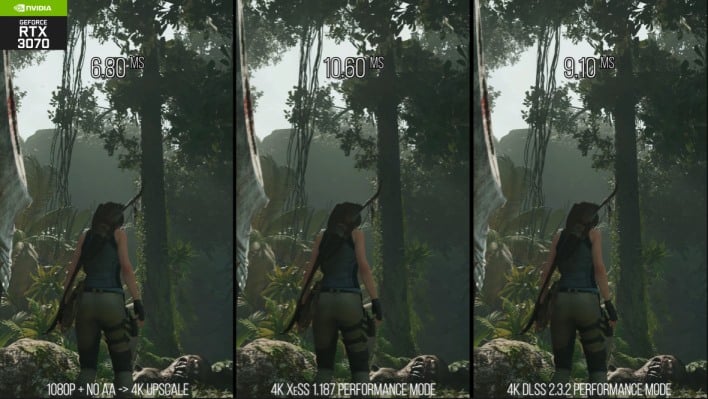 One major advantage that XeSS has over DLSS is that it runs on competitors' hardware, albeit using a less efficient algorithm. Sadly, Battaglia didn't do an image-quality comparison between XeSS on the Arc GPU and XeSS on a GeForce GPU, but he did briefly take a look at performance. The cost of XeSS was about 1.5 ms higher versus DLSS on an RTX 3070, which is not bad at all.
in its 2.1 revision
.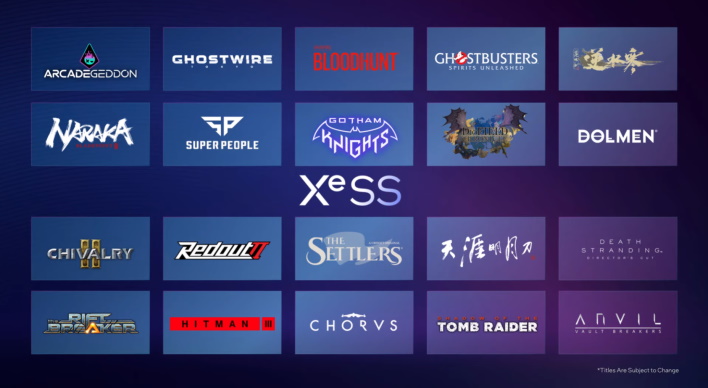 Intel says
that XeSS is coming to more than twenty games, including big-name titles like
Call of Duty: Modern Warfare II
and
Death Stranding: Director's Cut
. The technology will be unveiled on or before the launch of the high-end XeSS cards, which should be any day now.