Wyze Web Portal Shows Other People's Security Cameras After Short-Term Bug
This week, Wyze security camera owners reported that they could no longer see their own cameras, and in their place, saw live feeds from strange cameras that were not theirs. While Wyze has reportedly fixed the problem, it certainly begs the question: How much
privacy
and
security
are users willing to sacrifice when issues like this arise?
Yesterday on social media, such as Reddit, Wyze camera owners who logged into the view.wyze.com web portal reported that they could see other people's cameras and not their own. It appeared that this was not an isolated incident, so people began to call it a security breach, blaming hackers or some such for the occurrence. Further, people also began to take their cameras offline to protect their privacy until the issue could be fixed.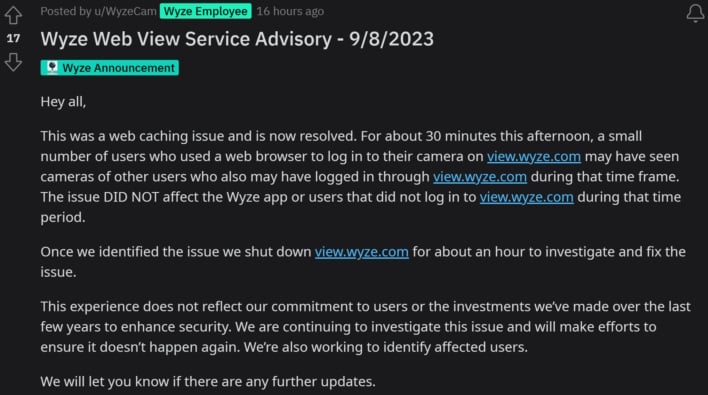 Just after this occurred, Wyze recognized the issue and took the view.wyze.com website offline for roughly an hour to investigate. In a Reddit post after the initial investigation, Wyze reported that it was a "web caching issue and is now resolved" and that the "issue DID NOT affect the Wyze app or users that did not log in to view.wyze.com" while the bug was occurring. The
company further explained
that "this experience does not reflect our commitment to users or the investments we've made over the last few years to enhance security" and is "continuing to investigate this issue."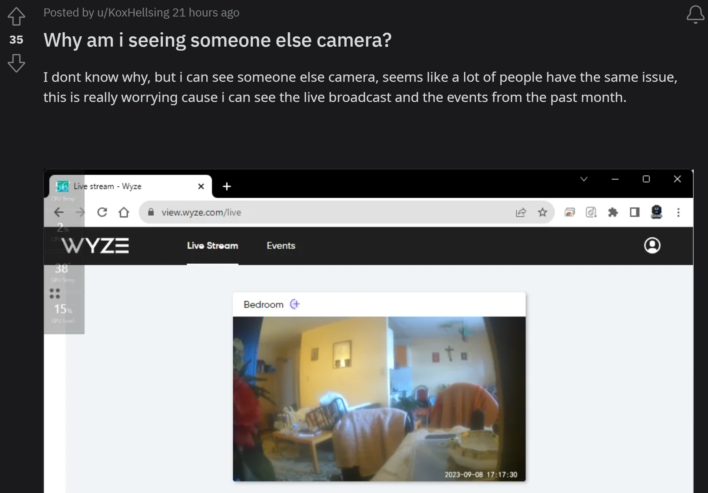 This is certainly not Wyze's first
security problem regarding its cameras
. In early 2022, a vulnerability was discovered that allowed some users to spy on others. All this ultimately raises the concern that people are potentially trading privacy for a false sence of security without even realizing it. Given how laissez-faire IoT security seems to be as of late, it is more likely than not that internet-connected devices like these will likely be compromised at some point.