Western Digital Bolsters Steam Deck And ROG Ally Storage With New High-Speed SSDs
Western Digital has launched a solid state drive (SSD) line—WD Black SN770M—that takes direct aim at the relatively recent crop of handheld game consoles, including Valve's Steam Deck and the
ASUS ROG Ally
. The Black SN770M ships in the shorter M.2 2230 form factor that both of those consoles utilize, which is less than half the length of a full-size M.2 2280 drive.
The M.2 form factor itself comes in different sizes, the most popular of which is M.2 2280. That set of four numbers denotes the width (first two figures) and length (last two figures). So M.2 2230 drives measure 22 millimeters wide by 30 millimeters long, compared to 22 x 80 mm for M.2 2280 drives.
Up until recently, the market for M.2 2230 SSDs was pretty bare. However, the emergence of compact handheld gaming PCs has
encouraged driver makers
to release physically smaller SSDs so users can upgrade their storage without performing potentially risky hardware mods.
"According to a recent Gartner report, the handheld gaming console market is expected to reach 14.8 million by 2027. As the mobile gaming market continues to grow and more AAA titles are released, new and innovative storage solutions are being released and developed to ensure mobile gamers are able to make the most of their on-the-go gaming experience," Western Digital says.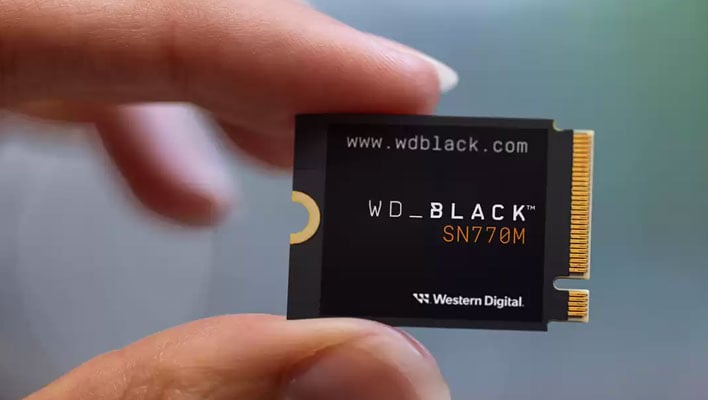 The Black SN770M is essentially a shorter version of the Black SN770 PCIe 4.0 SSD family. Western Digital is offering the Black SN770M in three capacities, including 500GB, 1TB, and 2TB. All three pair triple-level cell (TLC) 3D NAND flash memory with an in-house SanDisk controller. Here's how the rated performance compares...
2TB: 5,150MB/s seq. read, 4,850MB/s seq. write, 650K IOPS random read, 800K IOPS random write
1TB: 5,150MB/s seq. read, 4,900MB/s seq. write, 740K IOPS random read, 800K IOPS random write
512GB: 5,000MB/s seq. read, 4,000MB/s seq. write, 468K IOPS random read, 800K IOPS random write
It's nice to see Western Digital jumping into the fray and expanding the field of options, though compared to the competition, pricing is a little high. Storage prices tend to adjust rather quickly these days, though, so it's possible that we'll see street pricing come down once these drives land at places like Amazon. In the meantime, here are some other M.2 2230 options (all at Amazon)...